Who is the ACE Council Fellows/Fidelity Investments mentor award honoree?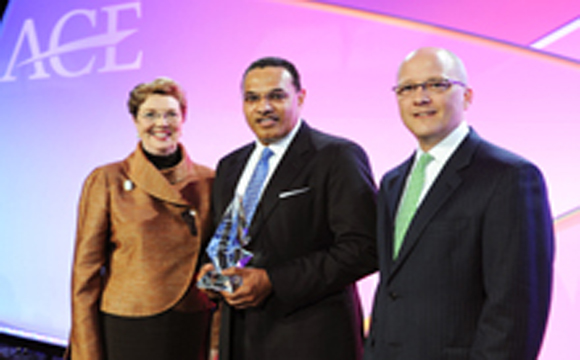 The Holmes Education Post recognizes schools, colleges and universities and their business partners that are demonstrating best practices in education. These practices may include civic or service learning activities, special programs, events and recognition of stakeholders in various institutions across the nation.
At the opening session of the American Council on Education's (ACE) 96th Annual Meeting, Dr. Freeman A. Hrabowski II, president of the University of Maryland was announced the 2014 ACE Council of Fellows/Fidelity Investments mentor award honoree. To be eligible for this award, a nominee must be a president or chancellor  (current or retired) of an ACE member institution, as well as a mentor to four or more ACE fellows.
Hrabowski has served as the president of the University of Maryland, Baltimore County since 1992. His extensive research and publications focus on math and science education with special emphasis on minority participation and performance. In 2012, Hrabowski was named by President Obama to chair the President's Advisory Commission on Educational Excellence for African Americans. In his leadership role of university president, UMBC has been ranked the number one Up and Coming University in the United States for three consecutive years (2009 – 2011) by U.S. News and World Report.
While contributing to the development and preparation of faculty and staff for senior positions in college and university administration, Hrabowski has mentored six Fellows including Donald Palm, assistant vice president for academic affairs at Florida Agricultural and Mechanical University; Jack Thomas, president of Western Illinois University and Karen Burg, Interim Vice Provost and Dean of the Graduate School at Clemson University.
As a native of Birmingham, Ala., Hrabowski graduated from Hampton Institute at the young age of 19 with high honors in mathematics. He received a master's degree in mathematics at the University of Illinois at Urbana-Champaign and four years later a Ph.D. in higher education administration and statistics. Hrabowski is a member of the Alpha Phi Alpha and Sigma Pi Phi fraternities. He consults for the National Institutes of Health, National Science Foundation and the National Academies.
We commend Dr. Freeman Hrabowski for his outstanding leadership and commitment to higher education.
 Dr. Ronald Holmes is the author of five books, "Education Questions to be Answered,"  "Current Issues and Answers in Education,"  "How to Eradicate Hazing," "Professional Career Paths" and "Your Answers to Education Questions." He is publisher of "The Holmes Education Post," an education focused Internet newspaper.  Holmes is a former teacher, school administrator and district superintendent. He can be reached at [email protected].
Photo by Tim Trumble for the American Council on Education.