Are you ready for a Ph.D. in business?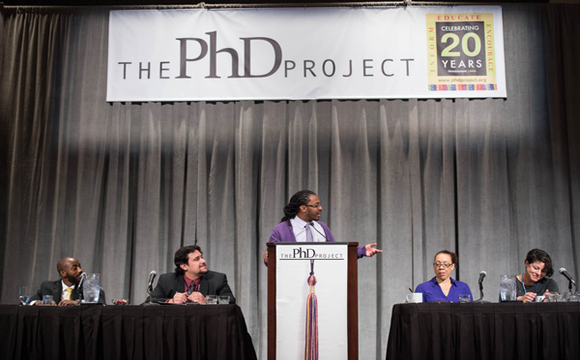 As a classic football fan, one of my favorite songs is, "Are you ready for some football?" by Hank Williams Jr.  Every Monday night, I am primed for a great game when I hear the lyrics to the song.  Just like football, testimonies of constituents of all types, sing the praises of The PhD Project's Annual Conference. This year in Chicago was The PhD Project's 20th annual conference. It was the site of over 100 doctoral granting institutions and over 350 minorities (African-American, Hispanic-American and Native American) aspiring to become potential doctoral candidates. With The PhD Project being a clearinghouse to prepare professionals with the knowledge of business doctoral programs to become business school professors, the critical questions to be asked: Are you ready for a Ph.D. in business? How can you get prepared for a Ph.D. in business? What are the perspectives of former and current doctoral students at different stages in their doctoral programs?
The Doctor of Philosophy is the highest academic degree a person can earn at a university. Less than one percent of the population attains a Ph.D. because of the rigorous course study and intense intellectual preparation. The PhD Project is a 501 (c) (3) organization that recruits minority professionals from business into doctoral programs in such disciplines as finance, accounting, management, marketing and information systems. Since The PhD Project's inception in 1994, it currently has 361 minorities enrolled in doctoral programs at various universities; and the number of minority business professors (African-American, Hispanic-American and Native American) has quadrupled from 294 to 1,217.
During the conference, potential candidates for doctoral programs heard from former and current minority doctoral students about their perspectives on life as doctoral students in different stages of their doctoral programs. These individuals included moderator, Dr. Willie Reddic, an assistant professor of accounting at DePaul University; Maurice W. Atkinson II, a first year accounting student at Michigan State University; Alfred Castillo, a second year information systems doctoral student at Florida International University; Jamie Weathers, a third year finance doctoral student at Temple University and Cinthia Satornino, a fourth year marketing doctoral student at Florida State University. An excerpt of Reddic and Atkinson's perspectives follows. Please go to The Holmes Education Post to read the perspectives of the other doctoral students.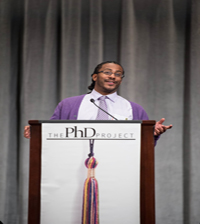 Reddic's Perspective – Pursuing my doctoral degree was the best decision of my life. I attended The PhD Project Conference in 2002; and after overcoming GMAT challenges, I started my Ph.D. program in 2008. I graduated from Syracuse University in May 2013, and in July 2013, I became an assistant professor at DePaul University. In this program, I had people interested in my professional growth and development. People like Melvin Stith, the former Dean of the Whitman School of Business at Syracuse University and Bernie Milano, the President of The PhD Project. No matter how discouraged I got, they told me, along with many others, "You are not going to quit!" With the dean's blessing, I switched my major from finance to accounting and progressed through the program. I now work in a profession that allows me to think freely, collaborate with great minds, and inspire others to think. I enjoy going to work every day including weekends. I enjoy this profession because I am doing something that is relevant to my interests and the world around me. Although the Ph.D. journey is tough, there is a new life at the end of the tunnel. If you pursue a doctoral program, become involved with The PhD Project. Similar to a fraternity or sorority, it is one big family, committed to helping you complete the journey.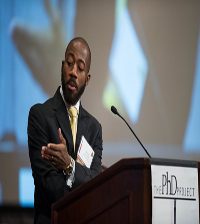 Atkinson's Perspective – I first had to overcome the obstacles of the GMAT in applying to doctoral programs because I was not mathematically inclined. I prepared diligently for the GMAT using Khan Academy and raised my score by 180 points. In 2011, I decided to attend The PhD Project Conference. When I came to the conference, I was encouraged by Dr. Reid, Dr. Reddic and others to pursue the program. I next sought potential universities to attend. My mother who did not graduate from college advised me by saying, "Son you better learn to love what loves you." While at the conference, I talked to every school representative at the college fair and expressed interest in attending the University of Arkansas. I researched other schools, ranked them and started the application process to 17 of them.
I took a class on special topics in accounting while attending the University of Arkansas Walton MBA full-time program, so I could understand accounting research. I emailed professors at schools that were doing research related to my interest. During this time, I was reminded of my mother's advice. If the professors responded to my email, which many did, I gave them full consideration. Through this process, one professor offered me a fellowship, to mentor me and see that I succeed. In making my decision, I listened to the advice of doctoral students affiliated with The PhD Project, took my mother's advice and selected Michigan State University.
Being in the doctoral program is painful and excruciating; I bang my head on the tables, cry and scream. However, I have two people in the cohort that I go to for assistance. I also get tutoring most days at least three hours a day. I spend 40-60 hours per week studying. I attend class as scheduled and try to fulfill the roles of my fellowship. Life is tough as a doctoral student, but you can do it. As a final advice, make sure you are committed to the doctoral program and not just interested. This program is not for the "faint of heart." It is not a 100 or 400 meters dash. This is an ultra-marathon and it is no joke!
For additional information about The PhD Project, go to its website at: http://www.phdproject.org/.
 Dr. Ronald Holmes is the author of four books, "Education Questions to be Answered,"  "Current Issues and Answers in Education,"  "How to Eradicate Hazing and "Professional Career Paths." He is publisher of "The Holmes Education Post," an education focused Internet newspaper.  Holmes is a former teacher, school administrator and district superintendent. He can be reached at [email protected].
–All photos courtesy of Brian Kersey–