Career Path to President of Community College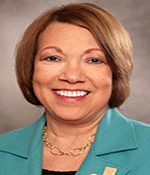 Community college presidents play a vital role in preparing students to meet the needs of workforce skills for a demanding economy. Having the ability to communicate effectively with the student body, faculty, board members, community and the business sector is an invaluable attribute of these presidents in order to maintain longevity in the profession. While there are different paths to employment, the critical questions to be asked are: What career path can lead to a community college president? What educational background and/or professional training are essential for this profession? What influenced Dr. Jerry Sue Thornton to pursue a career in this profession? What advice does Thornton give to students desiring to pursue a career as a president of a community college?
Dr. Jerry Thornton is an innovative community college leader who served as president of Cuyahoga Community College for 21 years, which is the largest and oldest community college in Ohio. During her tenure with the college, Thornton increased enrollment by 40 percent, created more than 800 distance learning courses; established two Corporate Colleges that provide training and coaching to Northeast Ohio businesses and students and increased the college Foundation endowment from $1.3 million in 1992 to more than $38 million in 2014. Because of Thornton's outstanding leadership and dedication to the Cuyahoga Community College, its students, foundation and community, the College Foundation established the Dr. Jerry Sue Thornton Scholarship Fund.
While recognized as one of the 50 most influential people in Northeast Ohio and the Top 25 Women in Higher Education, Thornton has been honored with numerous awards such as the American Association of Community Colleges' (AACC) Leadership and Diverse Champions Awards in 2014, the AACC Award of Excellence in Emerging Leadership in 2013, Visionary Leader Award by the Society of Urban Professionals in 2012 and the American Council on Education Fellow's Mentor of the Year Award in 2006.
Thornton has held a number of educational positions such as high school English teacher, English professor and Dean of Arts and Sciences at Triton College in Illinois and president of Lakewood Community College in Minnesota. She is currently president emeritus of Cuyahoga Community College, employed on a one-year contract to assist the new president with transition activities that involve working with the college foundation and assisting with the development of a ballot-issue (property tax proposal) for the November 2014 election.
As a native of Earlington, Kentucky, Thornton was motivated to pursue the teaching profession by her high school teachers. She earned a B.S. in English from Murray State University (MSU), a M.A. in Speech/Communications from MSU and a Ph.D. in Higher Education Administration with emphasis in Community College Leadership from The University of Texas at Austin. She also graduated from the Harvard Institute for the Management of Lifelong Education and received numerous honorary doctorates from universities nationally.
In addition to Thornton's leadership credentials, she has membership in a wide range of professional boards such as the Rock and Roll Hall of Fame and Museum; United Way of Greater Cleveland, Applied Industrial Technologies, Inc.; American Greetings Corporation; University Hospitals Health System; Association Council on Education; American Association of Community and Junior Colleges; Community College Leadership Advisory Board and the Gates Foundation Next Generation Learning Challenges Advisory Board. Thornton also worked internationally to help develop the community college concept in the Netherlands, China, United Kingdom, Jordan and Oatar.
For students desiring to pursue a career as president of a community college, Thornton says that students should "prepare themselves for the position with educational and career experiences. There are several pathways to the presidency but the most common one is through instruction (teaching) and the academic arena. There are non-traditional pathways but they are more difficult."
While taking the traditional path to the presidency, Thornton effectively guided the community college as a leader in educational innovation, workforce training and economic development. She says that "much of my time was spent in strategic planning and implementation, student advocacy, administrative oversight of performance leading to the completion of the college mission, working with the Board of Trustees, fund development, governmental/legislative advocacy and community engagement."
We congratulate Dr. Jerry Sue Thornton for her superb leadership and commitment to higher education on the local, state, national and international level.
 Dr. Ronald Holmes is the author of five books, "Education Questions to be Answered,"  "Current Issues and Answers in Education,"  "How to Eradicate Hazing," "Professional Career Paths" and "Your Answers to Education Questions." He is publisher of "The Holmes Education Post," an education focused Internet newspaper.  Holmes is a former teacher, school administrator and district superintendent. He can be reached at [email protected].