Career Path to Provost of DCCCD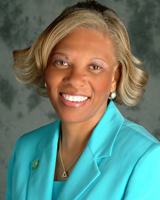 Dallas County Community College District (DCCCD) is one of the largest community college systems in the state of Texas and includes seven independently accredited colleges. With the focus on DCCCD from a leadership perspective, the questions to be asked are: What career path can lead to provost of Educational Affairs for DCCCD? What educational background and/or professional training are essential for this profession? What influenced Dr. Sharon L. Blackman to pursue a career in her profession? What advice does Blackman give to students desiring to pursue a career in an executive or leadership role at the community college level?
The mission of DCCCD is to equip students for successful living and responsible citizenship in a rapidly changing local, national and world community. Since 1965, it has served more than 1.5 million students. For 24 years, DCCCD has benefited from the leadership roles of Dr. Sharon Blackman in numerous positions.
As provost, Blackman says that a typical work day is 10-14 hours working in a variety of areas across the district. Specifically, she (1) acts as liaison for DCCCD with local, state, regional and national boards and associations; (2) acts as a member of the chancellor's staff, participating in discussions and decision-making, developing system strategies and organizational planning efforts and reviewing and revising policy and procedures; (3) collaborates with other vice chancellors and presidents, as well as other individuals in system leadership positions to provide operational and consultative assistance to the chancellor in a variety of system-wide initiatives; (4) supervises system functions in support of instruction and student programs and services and (5) serves as the principal resource and advisor to the vice presidents' council and to the college presidents on academic and student services issues.
Prior to Blackman's appointment with DCCCD, she started her career as a program coordinator of the Department of Extension and Continuing Education at Tennessee State University. In other higher education positions, Blackman worked as a director of Housing and Head Resident at Earlham College, coordinator of Developmental Education at Youngstown State University and dean of Technology and Workforce Development Services and president of the Auburn Hills Campus of Oakland Community College.
Blackman's career covers a 39-year span in a plethora of leadership roles including professional associations such as general chair for the President's Roundtable Minority Male Initiative's Men of Color Student Leadership Institute; president of Richland College Black Employees Association; president of the Texas Association of Women in Community Colleges and board member of Farmers Branch Chamber of Commerce. She also has membership with the American Council on Education; Texas Higher Education Coordinating Board; The National Commission on Community Colleges; Texas Association of College Technical Educators and Delta Sigma Theta Sorority, Inc.
Blackman has extended her contributions to the higher education community by presenting at local, state and national conferences. These conferences include the Southern Regional Datatel Users' Group; Women Helping Youth Foundation; Association for Career and Technical Education; Texas Placement Association of Texas; League of Innovation on Information Technology; Carrollton-Farmers Branch Independent School District and Achieving the Dream: Community College Counts Institute.
Thus, Blackman has been honored with a number of awards including DCCCD's Learning Technology Innovation of the Year; Inductee of Texas Region II, Hall of Fame Phi Theta Kappa International Honor Society; "Woman of Distinction" Award from the Pontiac Club of The National Association of Negro Business and Professional Women's Clubs, Inc.; the Outstanding Faculty Award by the Black United Students Association and recipient of the International Exemplary Leadership Award sponsored by The Chair Academy.
As a native of Nashville, Tennessee, Blackman earned a doctorate in Education Administration with a specialty in community colleges from Baylor University, a master's in Guidance and Counseling from the University of Tennessee at Chattanooga (UTC) and a bachelor's in Health and Physical Education from UTC. Blackman says that "she chose a career in education because her mother and uncle were teachers and primarily enjoyed working with different people in helping them to reach their own talents, abilities and potentials."
For students desiring to pursue a career in an executive or leadership role at the community college level, Blackman says that students should "be able to work well with people because what you deal with quite often is personnel. Second, students should always be a life-long learner because you can't progress unless you have foresight about where you would like to contribute to the growth and development of the institution. Our major goal is to help students to gain the highest quality of education that they can. In order for you to be able to do that, you have to look at policies and procedures and tasks that are performed by various areas of the institution. You have to be flexible and always open to learning rather than thinking that you know everything or have all the answers to every situation. The answer comes from many people working together."
We sincerely congratulate Dr. Sharon Blackman for her untiring commitment to higher education in a wide variety of leadership roles.
 Dr. Ronald Holmes is the author of five books, "Education Questions to be Answered,"  "Current Issues and Answers in Education,"  "How to Eradicate Hazing," "Professional Career Paths" and "Your Answers to Education Questions." He is publisher of "The Holmes Education Post," an education focused Internet newspaper.  Holmes is a former teacher, school administrator and district superintendent. He can be reached at [email protected].