Career Path to the University of Illinois at Urbana – Champaign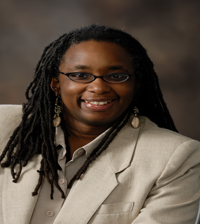 One of the attendees of the 2014 Institute on Teaching and Mentoring Conference in Atlanta, GA was Dr. Menah Pratt-Clarke from the University of Illinois at Urbana – Champaign ( UIUC). This is an excerpt of the interview with Dr. Pratt-Clarke about her career and reasons for recruiting at the conference.
What careerpath led to your profession?
I received a JD/PhD in Sociology at Vanderbilt.  After practicing law for a few years, I worked at Vanderbilt as the Assistant Secretary, University Compliance Officer, and University Counsel.  After eight years at Vanderbilt, I moved to Champaign-Urbana and started working at the University of Illinois at Urbana Champaign.  I am currently the Associate Chancellor for Strategic Affairs, the Associate Provost for Diversity and Associate Professor in the College of Education.  I also have affiliate relationships with the Department of Sociology, the Department of Gender and Women's Studies and the College of Law.
What influenced you to pursue a career in your profession?
I have always been passionate about issues of social justice. I wanted to have a career that focused on implementing theory and using theoretical ideas to change society.  The law degree and the doctorate in sociology enabled me to study organizations, individuals, systems, structures and conceptualize strategies to implement transformative initiatives in higher education related to access, equality and diversity.
What professional, civic or community organization do you belong?
I belong to organizations associated with my profession, including the National Association of Diversity Officers, the National Women's Studies Association, the American Sociological Association and the Association of African-American Life History.
What advice do you give to students who desire to pursue a career or faculty positions with UIUC?
I share that as part of Illinois' Strategic Plan, we are planning to hire 500 new faculty members over the next 5-7 years with the goal of ensuring that diversity is an essential factor in our hiring strategy.  I encourage them to apply for faculty positions, as well as post-doctoral positions at Illinois.  I encourage students to be diligent in completing their dissertation, but also mindful about applying for faculty positions. I encourage them to select institutions that are committed to diversity and to their success as a scholar.
Tell me about the program (s) at UIUC?
Illinois' commitment to a welcoming, affirming, diverse, and inclusive community is reflected by its Inclusive Illinois: one campus, many voices initiative (www.inclusiveillinois.illinois.edu).  We have a faculty committee called DRIVE (Diversity Realized at Illinois through Visioning Excellence) that is ensuring that we implement ourvision and commitment for a diverse and inclusive faculty, staff and student community.  We also have a Faculty Women of Color in the Academy conference that we host at the University of Illinois at Urbana-Champaign.  The conference is a national conference that draws close to 300 women to connect, support and empower one another. The conference will be April 10-11, 2015.  http://diversity.illinois.edu/FWCA/index.html
What is UIUC's purpose for attending the 2014 Institute on Teaching and Mentoring?
We are delighted to participate in the Institute.  It has been inspiring to see the talent and passion of the scholars at the Institute who are interested in careers in the academy.  Our goal is to make sure that the Institute's participants are aware of the University of Illinois at Urbana-Champaign and our commitment to diversifying our faculty.  We are excited at the opportunity to identify stellar scholars and to work on cultivating our relationships with them to encourage them to apply for positions at Illinois. Ultimately, we hope to hire several of these scholars for post-doctoral positions and faculty positions at Illinois.
Dr. Ronald Holmes is the author of seven books, "Education Questions to be Answered," "Current Issues and Answers in Education," "How to Eradicate Hazing," "Professional Career Paths" "Your Answers to Education Questions," "How to revitalize the National Baptist Convention, USA, Inc." and "Completing the Dissertation: Tips, techniques and real-life experiences from Ph.D. graduates." He is publisher of "The Holmes Education Post," an education focused Internet newspaper.  Holmes is a former teacher, school administrator and district superintendent. He can be reached at [email protected]