Director, Dr. Betty Bennett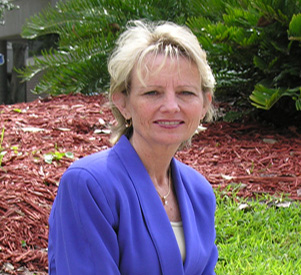 Dr. Betty Bennett is the director of University of North Florida's (UNF) Educator Preparation Institute in Jacksonville, Florida. The program provides an alternative route to professional teacher certification in Florida as part of the state's efforts to address critical teacher shortages. The Educator Preparation Institute is available for individuals with bachelor degrees in areas other than education seeking to become teachers, but not obtain a degree. An excerpt of Dr. Bennett's responses follows:
What career path led to your profession?
I worked in K-12 education for 15 years as a math, computer and business education teacher at the middle, junior high and high school levels. I was also a high school administrator, coordinated a program for at-risk high school students and worked for the district training new teachers. I enjoyed my time with the students immensely and miss it today. But the professional development that I did with teachers through my administrative and district roles felt as though I was making more impact on student learning by helping teachers give the students the very best education possible.
My first university position was as a professor of educational leadership; a degree for teachers working on the endorsement to be school administrators. This was an opportunity to work with exemplary teachers in a program preparing them to lead teachers. When UNF's proposal for an Educator Preparation Institute was granted by the state, the author of the proposal invited me to come to the program and take over as director. The program has turned out to be the ideal venue for me to serve my professional goals.
What educational background and/or professional training are essential for this profession?
I have a Bachelor of Arts in Elementary Education, a Master of Education in Educational Administration and Supervision and a Doctor of Philosophy in Educational Leadership. My certification areas are elementary education, middle grades math and leadership. I am fortunate that my staff have unique talents, training and certifications that accentuate mine. I teach in our program, but my main role is to take care of all of the other functions such as legal issues, community/public relations, budget, student payments, enrollment, technology, data and reporting, technical issues, local/state/federal issues, university and college dealings, student issues and anything outside of the day-to-day instruction in the program. The leadership degree and experience are a must. The relationships I developed with students while teaching in the Educational Leadership program help as well. A good number of school administrators and district personnel in our surrounding districts are former students. Networking and good rapport is a good thing.
What influenced you to pursue a career in your profession?
This is kind of a funny story. I played teacher as a kid with the neighbor kids. I hear that from our applicants on the essays they write, but it fits me, too. However, I never thought of
it again until college. I was going through the usual college major changes – interior design, marketing, communications and computer science, when I took an education class as an elective. I fell in love. It helped that my fiancé was also a teacher.
What professional, civic or community organization do you belong?
It's embarrassing to say that I don't belong to many. I work and have a family, which accounts for 100 percent of my time. I serve on two public school advisory committees because the principals invited me and I believe in the schools. I belong to the National Association of Alternative Certification. I also belong to the American Society for the Prevention of Cruelty to Animals. I belong to a Bunko group in my community. Other than that, I have no other time. I have two sons who are my civic activities.
What advice do you give to students who desire to purse a career in teaching through the Educator Preparation Institute?
The first thing that I tell students is that our program is like a graduate program on steroids. If they slack in the program, they will not make it. Some don't. I do this not to scare them off, but so that they don't invest their time, money and effort into something they can't complete. I want to make sure they understand that when they finish, they will be prepared to hit the ground running. They will enter the classroom prepared for the first day without hesitation. I ask them to consider their time commitments and where this will fit. They may want to consider the non-essentials and what they can give up until they finish the program. If they are committed enough to their passion to be an educator, they can give up something for 10 months to complete something that will get them within a stone's throw of their goal.

What is your typical work schedule?
I am so fortune in the flexibility of my schedule. I work six days a week when we have our sessions. During the months of late September – November, I am setting up Practicum experiences. In April – May, I am doing final student observations so I am in schools for most of the day. In these months, I will work about 70 hours a week. Regular weeks, on average I spend at least 50 hours. I am a night owl, so I can go in at 10:00 a.m. and then work as late as I need at home.
Dr. Ronald Holmes is the author of four books, "Education Questions to be Answered," "Current Issues and Answers in Education," "How to Eradicate Hazing and "Professional Career Paths." He is publisher of "The Holmes Education Post," an education focused Internet newspaper. Holmes is a former teacher, school administrator and district superintendent. He can be reached at [email protected]