Dr. Tracey Wilen-Daugenti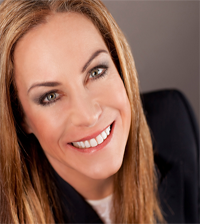 Dr. Tracey Wilen-Daugenti is a visiting scholar at Stanford University's Media X Program, a prominent thought leader on the impact of education, technology, workforce and careers and the author of 10 books with her latest publication in March 2013 titled, Women Lead: Career Perspectives from Workplace Leaders. This book secured 167 TV airings and over four million viewers in its first week. Dr. Wilen-Daugenti is a former Silicon Valley executive who has held leadership positions at Apple, HP, Cisco Systems and the Apollo Group. She frequently contributes to The Huffington Post, the Examiner, Christian Science Monitor and other national and international media outlets including FOX News Live and CBS Radio. An excerpt of the interview with Dr. Wilen-Daugenti follows:

What career path led to your profession?
My current profession is a global speaker and media contributor. The path that led me to this role is from having a series of career and job moves in diverse areas such as fashion, media advertising, sales, manufacturing, business development, project management, marketing, strategy combined with continuous education from a Bachelor of Arts to Masters of Business Administration to Doctor of Philosophy, post-doctoral studies and 15 years of teaching college on night and weekends. I am a typical example of how professions are developed today through a series of job stops, experiences and continuous learning.
What educational background and/or professional training are essential for this profession?
Each job had its own unique set of requirements. For my job in sales and media, a Bachelor of Arts was enough. When I joined Silicon Valley firms such and Apple and Cisco, the Master of Business Administration was a requirement along with technology proficiency. I had to pursue educational and technology to stay relevant and employed. I wrote my first book while working and quickly realized that if I were going to continue writing business books, I would need a doctorate to learn how to research properly. This doctorate not only helped me with my book research (10 books) but also helped me move into strategy positions where understanding research and business were important. Through the books, I had the chance to go on book tours and have media interviews so I sought training on speaking and presenting. I think that having a lot of stops in a variety of firms helped me round out my operations background so that I could develop a business unit and operate it in a firm. This helped me realize that I could develop a business and understand all the facets of work. That is where I am today.
What influenced you to pursue a career in your profession?
Like a lot of people, I took the first job out of college that I could get and then started to assess if the job was right for me, and if not, what moves did I need to make. My first job was on the editorial side of Vogue magazine. I realized that I was not talented in that area so I moved over to sales. In Silicon Valley, I was offered a manufacturing job that I thought I would hate but it sent me around the world to countries that I never thought I would visit and helped ground me for another opportunity in project management and that opened up the door to business development.
What professional, civic or community organization do you belong?
Depending on the stage of my career, I join the aligned professional organization. As female working in Silicon Valley, I joined WITI. As an educator, I joined AAUW. As a woman on TV and radio, I joined women in media. I think professional associations help us connect with people who are doing similar things. It is a great way to network.
What advice do you give to students who desire to pursue a career in your profession?
Many of the jobs that I had were not invented yet when I graduated from college. I think students need to realize that they are only seeing half the jobs out there and more will come. I found meeting people and asking them about what they did helped me understand what I did not want to do or what I thought I might want to try. I mapped out my career in terms of time and goals. Where was I in my 20's and what were my goals at that time and how would I achieve them. Where was I in my 30's and what were the achievable goals? I think goals help us define a target and once a target is defined, we can create a direction. Goals can be refined and realigned as we have more information.
What is your typical work day?
Today as a global speaker and media contributor, I usually write or research in the morning. I am wrapping up my next book and I have some deadlines. I look at hootsuite and respond to social media comments. I review Linkedin and see what is going on through my business network. I read and watch the news so I know what is top of mind for the media and in my field. I work on my next blog and if I have a radio interview, I prep for that interview. I work on updating my speeches. I am on the road giving global speeches mostly in the fall and spring. I do spend a bit of time preparing for my speeches, learning technology, watching videos and creating the presentation experience. I have operations work such as invoicing, accounting, taxes and P&L for my business.
Dr. Ronald Holmes is the author of three books, "Education Questions to be Answered," "Current Issues and Answers in Education" and "How to Eradicate Hazing." He is publisher of "The Holmes Education Post," an education focused Internet newspaper. Holmes is the national superintendent of education for the National Save the Family Now Movement, Inc., a former teacher, school administrator and district superintendent. He can be reached at [email protected]