How are schools going Green?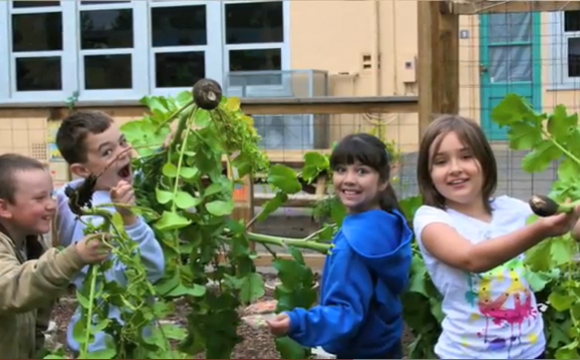 by Joi Holmes
"Going green" is fast becoming a way of life. We find ourselves looking for ways to recycle and reuse products.  We are even buying products that are environmentally friendly as well as looking for the "green stamp" on business doors and on products we purchase. Thus, on April 26, 2011, The US Department of Education launched a new recognition award for K-12 schools that focuses on green initiatives. The Green Ribbon Award recognizes schools that have successfully engaged students, parents and their surrounding community in environmental learning. The goal is to increase awareness of how we can save energy and preserve our earth's beauty.  Schools recognized as Green Ribbon will have implemented school-based initiatives and programs that engage students in lessons and projects that are rigorous and standards-based. These schools should also produce high levels of academic achievement and prepare students to lead environmentally aware lives by preserving nature and the natural resources that surround them.
Nominated schools will be selected based on their ability to demonstrate excellence in three criteria pillars: Environmental Impact and Energy Efficiency, Healthy School Environments and Environmental and Sustainability Education.  For each of these pillars, there are specific standards that schools must be aligned with in order to be awarded a Green Ribbon. States can nominate up to four schools in the first year; both private and public schools are eligible for nominations. By March 22, 2012 all states will submit their school nominations, and on April 23, 2012 the U.S. Department of Education will announce the Green Ribbon winners.
Theodore Judah Elementary School is one of California's Green Ribbon nominations. Located in Sacramento Calif., Theodore Judah has found great success with its environmentally focused curriculum. In fact, the school has saved its district money by eliminating the number of days trash is collected at the facility.  Theodore Judah Elementary created a student-maintained trash compost system, which eliminated the amount of trash accumulated each day.  Principal Corrie Celeste Buckmaster, proudly spoke of her teachers, students and parents and their commitment to not only instruct students on environmental issues, but made these lessons come alive through real world experiences and hands-on approaches. According to Buckmaster, "by teaching our students ways of being more resourceful, it has made them more aware and much more conscious."
Theodore Judah Elementary is noted for its five-year Science Alive Garden and Science Lab. Students visit the garden each week and participate in standards-based learning activities. The Science Alive Program is sponsored by Theodore Judah's Parent Teacher Association (PTA), and the instructional leaders (parents) of Science Alive are trained by the PTA. School-wide, students are engaged in environmental learning. The primary grades K-3 are a part of a Green Team, while 4th, 5th and 6th grade students conduct grade specific research.  Their findings will be sent to the Sacramento School District as environmental recommendations.
We commend Theodore Judah Elementary for creating an environmentally friendly school. Theodore Judah has done more than just teach the regular academics. The school has found innovative ways to bring the lessons to life in the classroom with relevance for students. These types of instructional practices are exceptional and students will carry these training throughout their educational and adult lives.  Theodore Judah has successfully gone "Green-Ribbon."
Joi Holmes is a veteran ELA Teacher and Reading Coach. She taught elementary, middle and high school students in both Georgia and Florida.  Currently, she is a 2nd year Ph.D. student in Curriculum & Instruction.