How can 2 catch 3?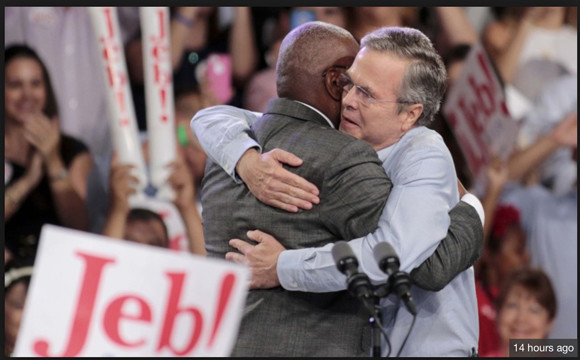 When something comes in 3s, it is a sign of positive results such as the Triple Crown in thoroughbred racing. Considering 3s as being known as "a charm," LeBron James made a significant number of 2-pointers in the 2015 NBA finals while Stephen Curry made a significant number of 3-pointers. Inevitably, the 3-pointers led the Warriors to win game five of the 2015 NBA finals. Relative to the 2016 presidential campaign, the critical questions to be asked are: How can 2 catch 3? Is this a sign of former Governor Jeb Bush becoming the next president of the United States? Why does Reverend Dr. R.B. Holmes, Jr. support Bush's candidacy for president of the United States? Including education, what are some of Bush's intentions for presidency?
On June 15, former Governor Jeb Bush announced his presidential intentions to secure the 2016 Republican nomination at Miami Dade College. While looking at the dynamics of "how 2 can catch 3," Bush is the second son of George H. W. Bush to run for president of the United States. If successful, he would become the third person in the Bush family to serve as president of the United States. In providing a sparkplug to his campaign, Bush was introduced by Reverend Dr. R.B. Holmes, Jr., pastor of Bethel Missionary Baptist Church in Tallahassee. Holmes has known Bush for over 20 years, considers himself a beloved brother and friend of Bush and admires and respects him dearly.
Through his personal observation and collaboration, Holmes emphasized that "Bush is forthright, fair and thoughtful. Bush is a person who truly cares about all people, does not judge people and respects people for who they are and what they can become. Bush is a good listener, leader and visionary. Bush is a person of good character, deep conviction, compassion and courage. Bush believes in the power of faith, personal responsibility, family and the United States of America." As a result, Holmes believes Bush will be a great president for the U.S. Holmes indicated that, "experience does matter, vision is necessary and proven leadership is important" which all are characteristics of Bush's background.
As a man who characterizes himself as an introvert, Bush gave an enthusiastic presentation of his presidential campaign. He said, "Not a one of us candidates deserves the job by right of resume, party, seniority, family or family narrative. It's nobody's turn. It's everybody's test and its wide open just like the presidency should be. So, I will campaign as I would serve, going everywhere, speaking to everyone, keeping my word, facing the issues without flinching and staying true to what I believe. I will take nothing and no one for granted. I will run with heart. I will run to win."
With the rise of citizen unrest in cities such as Baltimore and Ferguson, Bush commented that "every life matters and everyone has the right to rise" above mediocrity and inequality. He said, the citizens of America deserve better than what we are experiencing now. "The country is on a bad course. The question is, what are we going to do about it? The question for me is, what am I going to do about it? So, I decided I am a candidate for president of the United States of America." With this opportunity, Bush highlighted that he plans to provide freedom to all Americans, improve public education, grow the economy, pass immigration laws, take care of the veterans and U.S. troops and build positive relationships with allies. When schools are failing, Bush noted that the need for parents to have the right to send their children to a better performing school whether public, private or charter. He believes that we must give all children a chance to be successful in the world, restore parents the power over unions, as well as meet the needs of children with developmental challenges.
There are 17 months before the election of a new president, it remains to be seen who will win the Democratic and Republican nominations. Considering the significance and rarity of achievement occurring in 3s, perhaps this is the sign of Jeb Bush establishing and promoting an all inclusive people oriented plan to become the 46th president of the United States.
Dr. Ronald Holmes is the author of nine books, "Education Questions to be Answered," "Current Issues and Answers in Education," "How to Eradicate Hazing," "Professional Career Paths," "Your Answers to Education Questions," "How to revitalize the National Baptist Convention, USA, Inc." "Completing the Dissertation: Tips, techniques and real-life experiences from Ph.D. graduates," "Jacob's Dream, A Story of Careers for Children" and Jacob's Dream, A Story of Animals in Africa. He is publisher of "The Holmes Education Post," an education focused Internet newspaper.  Holmes is a former teacher, school administrator and district superintendent. He can be reached at [email protected]