How can schools prepare students for a career in the National Football League?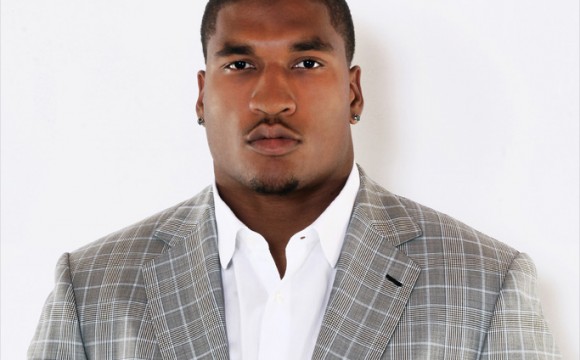 The National Collegiate Athletic Association (NCAA) reports that becoming a professional football player for the National Football League (NFL) is as rare as winning the lottery. Only one in 5,000 high school athletes become professional basketball and football players according to the Bureau of Labor Statistics. While many young athletes, particularly, African-American males seek to become pros, America's schools must ensure that they are prepared educationally and socially for this highly skilled, high-wage and competitive career.
So the questions to be asked are: How can schools prepare students for the NFL? Why are comprehension skills essential in school and the NFL? What advice does Larry English give to students who desire to play in the NFL? What is a typical day in the life of a NFL player? How does Larry English give back to the community?
As America's schools prepare students for college and careers, there are prerequisite knowledge, skills, attitudes, commitment and service expected of professional athletes. To gain an understanding of the expectations for athletes in the NFL, I interviewed Larry English, an outside linebacker for the San Diego Chargers. English was selected 16th overall in the 2009 NFL draft and was the first pick for the Chargers. English graduated from Marmion Academy, a private all male Catholic school in Aurora, Ill.; and completed a Bachelor of Liberal Arts and Sciences at Northern Illinois University in Dekalb, Ill.
According to English, it is important that schools teach athletes how to understand concepts and relate them to work situations because this is exactly what is required in the NFL. For example, as an outside linebacker, English says that each week he and his teammates have to learn new schemes of the opposing team by watching videotapes and collaborating in team meetings. At game time, English says that they have to quickly apply what they learned in practice to what they "read" or assess on the football field during the game.
Thus, English says that comprehension skills gained primarily from school comes to fruition during the NFL job. For example, he says "when you learn the defensive plays in the NFL, such as the 3-4 for the San Diego Chargers, you have to react to the opposing teams' offense depending on their formations." Based on where the tight ends and running backs position themselves on the line, "you have to utilize your comprehension skills such as making an audible" to solve the problem or stop the offense. The same is for mathematics in school. Teachers may give students different numbers for solving a problem. If the students know the concepts, the numbers do not matter in terms of solving the equation. Students can use their comprehension skills to get the job done, says English.
English says he always wanted to be a professional football player but realized that he had to "work hard and remain dedicated" to making his dream come true. This included maintaining a 3.00 grade point average at Northern Illinois University and becoming the nation's career leader in sacks (31.5), sack yardage (220) and tackles for loss yards (283). English notes that "because he made the commitment to his academics, he acquired the skill set to successfully transition into another profession when his career on the football field comes to an end."
English's advice to students is that they "dedicate themselves to this profession because it takes a lot of hard work." He says that "nothing happens over night; you have to stay positive, remain confident and be ready for the tribulations and pitfalls" of life. The NFL is a busy profession like other professions. English says that his typical 12-hour day includes "going to the Charger's training facility at 6:00 a.m. to lift weights and eat breakfast. From 8:00 a.m. to 12:00 p.m., English attends meetings then goes to practice from 1:00 to 4:00 pm. The last meeting is from 4:00 – 5:00p.m.
As a professional in the NFL, English believes in giving back to the community to establish opportunities to enhance the mindset of student-athletes. He, along with his mother, Susan English, has created The Larry English L.E.A.D. Foundation which stands for Leading Education to Athletes for Their Dreams. The Englishes organized this foundation to instill life skills and confidence in children through tutoring, mentoring and sponsoring educational field trips. As part of his foundation, English is a supporter and sponsor of free football clinics for economically disadvantaged students, a program for the homeless, a student achievement recognition program, a reading program and asthma awareness program for the community. In addition, he makes himself available to speak to various youth audiences in the San Diego community as an intervention to prepare students for life on and off the field.
The National Collegiate Athletic Association reports that student-athletes have a slim chance of making it to the NFL, so they should first, acquire a good education. It is the responsibility of our school system to provide the appropriate teaching concepts to make this happen.