How do female superintendents handle political challenges on the job?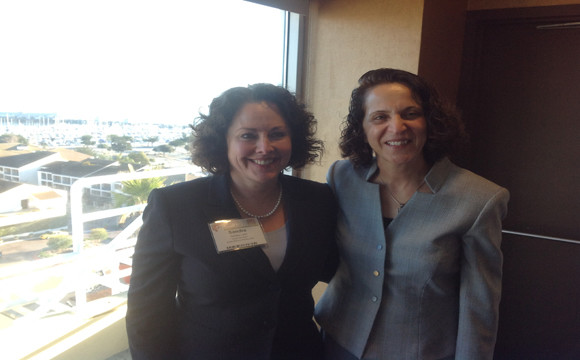 Superintendents are confronted with challenges to effectively manage their schools districts. Some of these challenges include the operating budget, academic curriculum and student performance. While there are best practices and resources school districts can employ to address these concerns, the critical questions to be asked are: How do female superintendents handle extreme or political challenges in their jobs? What advice do two exemplary female superintendents offer for handling adversity?
To answer these questions, this special feature provides an excerpt of incredible stories shared by California superintendents Parvin Ahmadi of Pleasant Unified School District and Sandy Lyon of Santa Monica-Mailibu Unified School District at the Women's Leadership Networking Breakfast during the 2015 Association of California School Administrators Conference in Monterey, Calif. Some of the stories included issues regarding racial remarks, equity, bias, safety, environmental, health and social media.
Superintendent Ahmadi, being a woman of Iranian decent discussed how her efforts in addressing equity in a high performing school district where the opportunity gap is masked has been met with resistance. She also noted the danger of social media such as anonymous blogs where people can make derogatory comments that at times have crossed over to what could be characterized as hate speech without any recourse.
Lyon shared examples of dangerous threats through social media that she described as appalling and frightening. While working in a high profile school district with a lot of celebrities, Lyon told how she changed a board policy and received very negative remarks as a result of it. She even spoke about a statement made to her by a school stakeholder such as, "You look like our mom rather than our superintendent." Lyon noted that although employees may see male leaders as father figures, she is not sure if they would approach them and make the same statement.
These experiences coupled with many others were concerning to the superintendents considering their students have consistently performed outstanding on state and national exams. Ahmadi said, "You have to realize that you are going to be criticized. You have to utilize your resources such as the district's communication coordinator to deal with the negative media. You have to write your own stories to counteract the negative ones."
Additionally, Ahmadi said, you have to have "thick skin," so to speak. She gave the following advice to other female superintendents: "Be confident and sure about what you are doing on your job. Stay focused and make sure that what you are doing is based on data and facts. Don't let people see that you are frustrated. Rely on your family support and network for strength.Encourage stakeholders who are supporters of the school district and believe in your cause to attend board meetings and speak on behalf of children and the quality of programs, services and activities being offered in the district."
Similarly, Lyon said, "You have to have awareness of your environment, operate your school district based on facts not opinions. Challenge those in authority such as the school board about unfavorable questions posed to you as a female. Maintain your core values and purpose for educating children. Establish a support group to collaborate with constituents such as regional employees and retired superintendents to help you address and solve issues beyond your control."
While degrees and certifications can qualify you for educational leadership roles, the day-to-day challenges of school superintendents may be overbearing, overwhelming and overpowering. Exemplary leaders understand the importance of tapping their resources to help deal with issues beyond their boundaries. We thank Superintendents Ahmadi and Lyon for sharing their stories so other superintendents can learn how to handle adverse circumstances in their school districts.
Dr. Ronald Holmes is the author of eight books, "Education Questions to be Answered," "Current Issues and Answers in Education," "How to Eradicate Hazing," "Professional Career Paths" "Your Answers to Education Questions," "How to revitalize the National Baptist Convention, USA, Inc." "Completing the Dissertation: Tips, techniques and real-life experiences from Ph.D. graduates" and "Jacob's Dream, A Story of Careers for Children." He is publisher of "The Holmes Education Post," an education focused Internet newspaper.  Holmes is a former teacher, school administrator and district superintendent. He can be reached at [email protected]