How do thousands of baby fish graduate from school?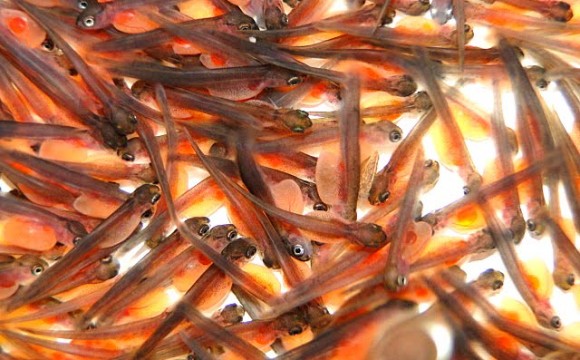 When you hear the term graduation, you normally think of students graduating from kindergarten, high school or college. Rarely do you hear of graduation in any other context. So the questions to be asked are: How do thousands of baby fish graduate from school? How does a program on growing fish relate to English, mathematics, science and social studies? How do students who participate in a program on growing fish perform academically and socially?
On Wednesday, Nov. 16, elementary students from 12 schools in DeKalb County, one private school in Cobb County and one in Fulton County in Georgia and one Duval County school in Florida participated in the Small Fry to Go graduation program, where they released thousands of baby fish, raised at their schools, into the Chattahoochee River. The SFtG program, started by Dr. Mindy DiSalvo, assistant director of grants and community programs of DeKalb County School District, is a "small fry curriculum that is cross-curricular.'' Through this program, students not only learn about growing fish, but they also learn about science, mathematics, reading, language arts, writing, social studies, art, health education, character education, technology and career education.
SFtG affords students "hands-on, real-world and problem-based activities" that they can use daily in the educational setting, says DeKalb business partner Tom Schmeltzer of Technology Solutions who has partnered with DeKalb to develop curriculum and take the program to scale. SFtG has a direct relationship to the STEM (science, technology, engineering and mathematics) concept, where students gain knowledge and experience in these subject areas through a curriculum that reinforces problem-solving, discovery and exploratory learning.
DiSalvo says the SFtG curriculum provides students the opportunity to understand and learn science through theory and practice. DiSalvo started the program in DeKalb because she wanted to further enhance students' knowledge from the experience they gained at the fish hatchery. She wanted students to not only see the fish after growth but she wanted them to raise the fish from the egg stage. As a result, DiSalvo partnered with the hatchery, Technology Solutions and other stakeholders to launch the SFtG program.
Teachers who were interested in adopting the SFtG program received hundreds of eggs and a curriculum for their classrooms at every grade level from pre-kindergarten to middle school. The eggs are grown and kept at the schools in a labitat, a 146 gallon, 6-foot climate-controlled, sterilized mini hatchery. Students watch the fish develop over the course of six to eight weeks. They participate in activities that correlate with state and national standards and a thematic focus around fish eggs.
Over the six to eight weeks of fish development, students engage in various activities that incorporate all core content areas. For example, during the language arts block, students keep journals and track the progress of the eggs' growth; they also write short essays summarizing their thoughts or any data that is collected. In mathematics, students keep track of the number of surviving fish eggs, and those that died; they keep logs in order to track changes from the project's inception. In science, students learn about life cycles and water quality; and in social studies, students learn about fish families and fun facts. Once the eggs are hatched, students participate in a mass release of their baby fish into the Chattahoochee River.
At the Chattahoochee River, students work with biologists and Georgia Tech researchers. They explore the river bank sediment to learn about river conservation, erosion, protection and see a spawning demonstration from the director of the Department of Natural Resources Buford Trout Hatchery.
Also at the Chattahoochee River, students learn how to probe or test the water quality to determine if it is appropriate for the baby fish to survive. DiSalvo says that students periodically visit the labitat at the schools to test the water and assess the water oxygen and nitrogen rates to keep the fish alive. From an engineering perspective, students analyze "how much water is running through the labitat," says Schmeltzer.
When I asked DiSalvo about student performance on standardized test who participate in the SFtG, she says that students perform better on the science tests and homework assignments and have better attendance and parental involvement. Her reasons are that the SFtG program is integrated with the curriculum and students take a vested interest in watching their fish grow and develop in the labitat which influences parents to be at the school more frequently.
According to an eyewitness observing the activities at the Chattahoochee River, she notes: "Through this amazing program, students receive a two-fold reward. Students learn grade level content while also stepping outside the classroom to make real-life connections to their learning. Teachers are rewarded as they watch their students learn new concepts through hands-on approach. This teaching and learning experience provide memories that will last a lifetime for the students and teachers."
So, when you hear the term graduation, don't just think of students. Also think of the SFtG program that allows students to develop their baby fish over six to eight weeks and graduate or release them in the Chattahoochee River. The SFtG program provides students theory and application for improved learning. It also represents a best teaching practice for integrating multiple disciplines with a STEM focus.