How does Miss Black Florida USA 2014 raise awareness of heart disease and promote literacy in children?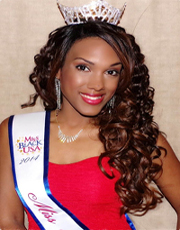 Heart disease is the leading cause of death among women and men in the U.S. with about 600,000 people each year dying of it, according to the Center for Disease Control and Prevention. The literacy rate of U.S. citizens is alarming. According to the Department of Education and National Institute of Literacy, 14 percent of U.S. adults can't read, 21 percent of U.S. adults read below the 5th grade level and 19 percent of U.S. high school graduates can't read.
For this special feature, the critical questions to be asked are: How does Miss Black Florida USA 2014 raise awareness of heart disease and promote literacy in children? What is the Savvy Minds Learning Center LLC? To address these questions, I interviewed Miss Black Florida USA 2014, Shirley Alabre whose civic platform is to raise awareness of heart disease and promote literacy in children.
Alabre was born and raised in Ft. Lauderdale, Fla. to parents of Haitian decent. As a first generation Haitian-American, Alabre says that she worked extremely hard in elementary through high school and excelled in honor classes. After graduating from high school, Alabre decided to continue her education at the university level to help children similar to her background overcome reading obstacles. As such, she studied at Florida Atlantic and Nova Southeastern Universities respectively and received a Bachelor of Science in Elementary Education and a Master of Arts in Teaching and Learning.
In August 2014, Alabre plans to open the Savvy Minds Learning Center (SMLC) with a concentration on pre-K – 4th grade to further support the needs of children who struggle to read and have difficulties in other academic areas. Alabre says the SMLC will provide individualized instruction and tutoring in the Ft. Lauderdale community in students' home and library for test preparation, study skills and homework assistance. It will also provide instruction for kindergarten preparation, reading, Language Arts, mathematics, science and English for Speakers of Other Languages (ESOL).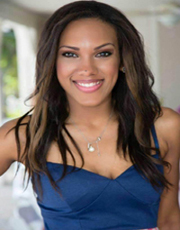 Alabre's belief is that, "All great leaders are great readers and that reading can take you anywhere you want to go. Children can accomplish anything if they have the drive, motivation and resources to do it." Through the SMLC, Alabre says that the center will have the resources, passionate and committed teachers to assist students reach their highest potential. It will also cater to students with different learning styles and abilities utilizing the latest research based strategies.
On a civic level, Alabre along with Miss Black USA, is a national spokesperson for the "Heart Truth" campaign utilizing this vehicle to raise awareness of heart disease in women. Some of her activities include discussions with young Black women and men on the seriousness of the disease and proactive ways to avoid it. Other civic activities include her involvement in donating books to the homeless shelters, participating in social justice programs such as an event in memory of Trayvon Martin and volunteering time reading stories and speaking to young adults at their schools.
In a membership role, Alabre is actively involved in Leaders Recognizing Leaders Inc., which is a non-profit organization with a mission to teach young people ages 15-25 how to be leaders and young diplomats, reshaping their mindset for community service, educational development and global communication in local, national and international communities.
We sincerely wish Shirley Alabre the best in using her civic platform and entrepreneurship spirit to raise awareness of heart disease and promote literacy for children.
Dr. Ronald Holmes is the author of six books, "Education Questions to be Answered," "Current Issues and Answers in Education,"  "How to Eradicate Hazing," "Professional Career Paths" "Your Answers to Education Questions" and "How to revitalize the National Baptist Convention, USA, Inc." He is publisher of "The Holmes Education Post," an education focused Internet newspaper.  Holmes is a former teacher, school administrator and district superintendent. He can be reached at [email protected].