How does the Higher Education Community address the "Black Lives Matter" movement?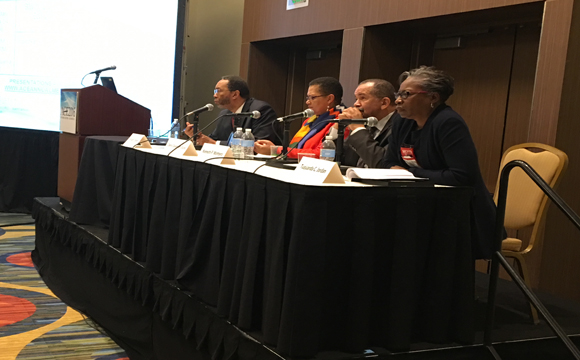 While the "Black Lives Matter" movement provides another issue plaguing American society, the critical question to be asked is, "How does the Higher Education Community address the "Black Lives Matter" movement? To provide insight to this question, members of the Higher Education Community led a discussion on the topic at the 98th Annual Meeting of the American Council on Education.
Panelist included William B. Harvey, professor of Leadership Studies at North Carolina A&T State University; Cheryl Davenport Dozier, president of Savannah State University; Tuajuanda C. Jordan, president of St. Mary's College of Maryland and Kenneth P. Monteiro, dean, College of Ethnic Studies at San Francisco State University. Here is an excerpt of some comments from two of the panel members (Dozier and Jordan).
Cheryl Dozier:
The "Black Lives Matter" movement is not new to higher education. Why 40 years later? We faced similar issues when I was a student in college. Is there anything that we did not do right? We must make a difference with all of our students or this issue will continue to plague us. We must speak up for change. We owe it to our ancestors. Faculty senate has to be challenged to say something. A movement is needed now as in the past. We have to change and do something about things that are happening to African Americans.
Tuajuanda Jordan:
People are in denial or delusional about race relations on college campuses. We must give people the appropriate tool to address societal problems. We have to find ways to get other "choir" members to talk about what they believe and see happening in our society. We have to get the young adults to lead us, so we can make progress in our society; this has always been the pattern for progression.

Dr. Ronald Holmes is the author of 12 books: Jacob's Dream! "A Lesson on Numbers and Birds," "Jacob's Dream! A Lesson on Alphabets and Continents," "How to Eradicate Bullying," "Education Questions to be Answered," "Current Issues and Answers in Education," "How to Eradicate Hazing," "Professional Career Paths," "Your Answers to Education Questions," "How to revitalize the National Baptist Convention, USA, Inc." "Completing the Dissertation: Tips, techniques and real-life experiences from Ph.D. graduates." "Jacob's Dream, A Story of Careers for Children" and Jacob's Dream, A Story of Animals in Africa. He is publisher of "The Holmes Education Post," an education focused Internet newspaper.  Holmes is a former teacher, school administrator and district superintendent. He can be reached at [email protected]