How does YCA develop teen writers?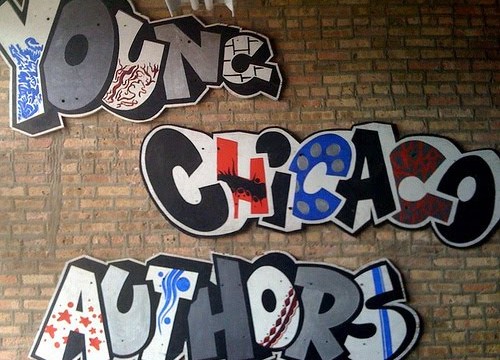 By Iman Carol Fears
Young Chicago Authors  (YCA) is a Chicago-based nonprofit that helps young people to grow and develop through exposure to creative writing. Through YCA, Chicago-area teens get heavily involved in their communities and the literary arts. Founded in 1991, YCA's many programs include intensive creative writing classes, readings by world-renowned poets and novelists, trips to theaters, literary events, and college campuses and opportunities for teens to work as aides at local elementary schools. Currently, YCA works with 2,500 teens yearly, providing them with writing workshops, performance programs and opportunities for publication—opportunities that are typically unavailable for writers in their teen years.
Holmes Education Post student intern Iman Carol Fears interviewed YCA Executive Director Rebecca Hunter to learn more about this fascinating program.
How do students change and develop after participating in your programs?
"We have a number of different programs that we offer," says Hunter.  "Sometimes we'll do a residency in a school, that can be for a short period of time, or, if we get funding, we can do a much longer sustained residency. We'll do longer moments of cultural engagement through developing an authentic voice through spoken word and the literary arts in general. We'll see young people really engaging as participants and purveyors in their own culture, the culture of the city."
What platforms are available for students to publicize the work that they create?
"Through our programs, students will start to understand that they have an active space in Chicago's arts scene and we aim to provide a platform where their voices can be heard. How that voice is heard is really determined by them, and we have lots of different public platforms." "We also have a poetry festival that's focused on poetry and spoken word, and that's the moment where over eighty schools and community groups come together to kind of create this cultural space where they share each other's work in a very positive environment."
How does YCA focus on  include journalism training?
"We have an online publication called 'Say What', where there's a core group of young people who will have to edit and platform their material online, creating this journalistic pedagogy. In addition, we have a more rigorous creative writing component to our program where young people can get very involved in the training and forms of writing and really start to understand it in a literary context. "A lot of the young people will start to emerge as artists. That  is something that inevitably happens through all of our programs. It certainly isn't the major focus of our programs but we do see young people emerging as young writers, in and out of the classroom."
Why does YCA focus on teens for its program?
"All of our programs focus on teens age 12 to college aged students.  Of course, there's flexibility around that, but we focus on the teen age group in particular because there's a real lack of cultural programs that focus on engaging this age group. "There's so much that happens at this age in terms of personality development, language development and individual identity development that we specialize in working with teens because there's a real need for it."
About the Author: 17-year-old Iman Carol Fears is a member of Columbia University's Class of 2016, where she intends to study creative writing and economics. Her work has been published in Underground Voices, Unlikely 2.0, and the Newport Review.