How Must We Save the Family?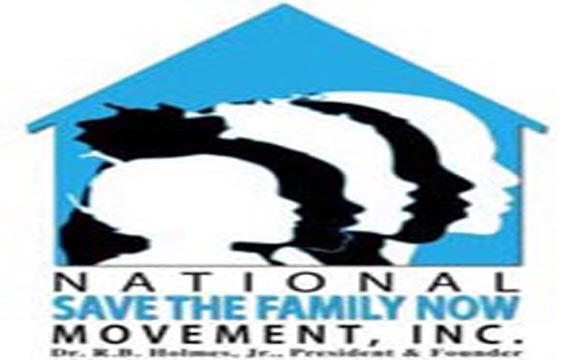 Using the publications of his four books covering the areas of education, hazing and professional careers, Dr. Ronald Holmes gave an excerpt of these publications in four examples at the Vision's Conference Banquet at the Sheraton Hotel in Tallahassee, Fla. as it relates to Saving the Family. Dr. Holmes said that saving the family is critical to the stability of our livelihood, critical to the welfare of our health, critical to our household and community structure and critical to our children's education. With the conference being organized by Bethel Missionary Baptist Church in Tallahassee, following are Holmes' reasons we must save the family:
(1) Saving the Family is critical to the stability of our livelihood. Too many families are living without the basic necessities of food, clothing and shelter.  In fact, 15 percent of households were considered food insecure according to the U.S. Department of Agriculture. This equates to 49 million Americans living in food insecure households representing 33 and 16 million adults and children respectively.
(2) Saving the Family is critical to the welfare of our health. We are living in a nation where families are dying of different diseases such as sexually transmittal diseases, diabetes, lung, heart and kidney problems because they do not have medical insurance or can not pay for the cost associated with appropriate medical diagnosis and/or prevention of these diseases. In the U.S., more than 26 million adults have chronic kidney disease and more than 88,000 die from the causes of the disease each year with African-Americans being impacted at a rate three times that of Caucasians according to the National Kidney Foundation.
(3) Saving the Family is critical to our household and community structure.  Among African-Americans, 44 percent of marriages are becoming obsolete as reported by the Pew Study in conjunction with Time Magazine. In other research such as the U.S. Department of Health and Human Services and our observation, healthy marriages contribute to children attending college, women having better relationships with their children and men living longer. In fact, we learned of an African-American man who was searching unsuccessfully for a kidney on the internet and, surprisingly discovered, his wife had the match he needed to stay alive.
(4) Saving the Family is critical to our children's education. Despite the No Child Left Behind law and Common Core State Standards, too many students are not prepared for college and careers. Annually, about 1.2 million students drop out of school which equates to 7,000 students dropping out each school day or one child every 26 seconds according to the Alliance for Excellent Education. Over a six-year-period, the national graduation rate for college students at public institutions is approximately 56 percent. The rate for African-American college students at public institutions is 35 percent according to College Board. When students dropout of school and, subsequently don't graduate, this contributes to teenage pregnancy and crime in our communities.
In 2007, the Office of Justice Program reported that there was 2.18 million juvenile arrests of children under the age of 18 and of that number, African-American juveniles accounted for 51 percent of the crimes although they represented only 17 percent of the youth population. In 2011, the Centers for Disease Control and Prevention reported that there were 300,000 babies born in the U.S. to teens ages 15 -19. Together, African-American and Hispanic teens accounted for 57 percent of these babies.
With these major challenges confronting our livelihood, health, household structure and education, the critical question to be asked is: How must we save the family. The answer is found in the establishment of The National Save the Family Now Movement, Inc. which evolved on October 20, 2010 through the intergenerational family ministries at Bethel Missionary Baptist Church under the dynamic leadership of Reverend Dr. R.B. Holmes, Jr. The goal is to strengthen, save and sustain the Black family in particular, and all families in general.
In a "Pay It Forward" mindset, The National Save the Family Now Movement will continue to work its 2020 strategic plan and revitalize the family through programs, activities, services and best practices that can be replicated in 25 cities across the nation. Some of these initiatives or ministries include homes for the elderly, family life centers, counseling and outreach centers for social justice and prayer services, activities to celebrate marriages, workshops to address the eradication of hazing, bullying, violence, mental health and teenage pregnancy.
One additional ministry includes the launching of Christian Academies. The goal of the Save the Family academies is to provide a spiritually enlightening and culturally enriching environment for students and staff where students master critical thinking skills for lifelong learning; where students can comprehend, evaluate, and act on what they learn in their everyday life; and where every individual within the organization has the mindset that all students will succeed by evident of their readiness for college and careers.
In short, Saving the Family is critical to the stability and sustainability of our economy. Let's join forces and utilize our resources to Save the Family in order to make the world a better place for everyone to live, work and grow.
 Dr. Ronald Holmes is the author of four books, "Education Questions to be Answered,"  "Current Issues and Answers in Education,"  "How to Eradicate Hazing and "Professional Career Paths." He is publisher of "The Holmes Education Post," an education focused Internet newspaper.  Holmes is the national superintendent of education for the National Save the Family Now Movement, Inc., a former teacher, school administrator and district superintendent. He can be reached at [email protected].