Is it time to bail out U.S. school districts?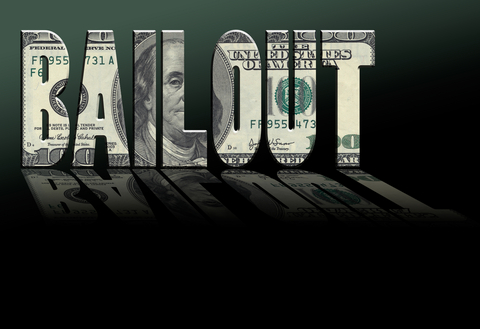 The domino theory suggests that if the U.S. government bails out one organization in dire financial crisis, then it should be prepared to bail out another organization of similar circumstances. Using taxpayers' money, the U.S. government appropriated $700 billion to bail out financial systems such as banks through the Emergency Economic Stabilization Act of 2008. Similarly, the federal government spent $24.9 billion in 2009 to bail out General Motors and Chrysler from layoffs and deterioration.
So the question to be asked is: Is it time to bail out U.S. school districts? School districts nationwide are faced with substantial cutbacks or shortfalls due to an unstable and uncertain economy. Similar to the banking and auto industries, school districts are in need of financial support from the U.S. government to stabilize themselves from excessive layoffs of employees and, subsequently, destruction.
On Feb. 28, for example, the San Francisco Board of Education approved preliminary layoff notices for over 485 full-time positions in San Francisco Unified School District (SFUSD). SFUSD has about 8,000 employees and serves 56,000 pre-kindergarten through 12th grade students. The proposed layoffs represent approximately 106 paraprofessionals, 123 administrators and 245 instructional services including teachers, counselors and other employees.
These projections are based on California Governor Jerry Brown's proposed budget deficit of $83.3 million in the event his tax proposal of $119.4 million does not pass for the next two years. According to Superintendent Carlos Garcia, SFUSD is "facing another year of devastating budget cuts from the state. Though we wish we didn't have to layoff any employee, we must do what is right for the children in our highest need schools and communities."
SFUSD's preliminary layoff notices are mandatory for all certified employees by March 15 of each year. During the past two school years, all employees in SFUSD took four furlough days to minimize layoffs. The SFUSD is seeking the continuation of furlough days for an additional two years to offset costs and, subsequently, reserve positions. However, the district is confronted with the uncertainty of the state's budget and other factors to maintain a balanced budget with existing employees. It is forced to rely on the proposed cuts by the state, issue final layoff notices to employees by May and submit its budget to the state by July 1, according to the school system.
In Oakland United School District, the school board approved the closing of five elementary schools located in the predominantly Latino, African-American and Southeast Asian communities; whereby the wealthier communities did not face school closures, according to the Oakland Tribune. An Occupy Hood group along with concerned parents and other community officials is requesting the school board find a way to bailout these schools in the same way as the banks. This group feels that its taxpayer dollars have been funneled to prisons and financial systems instead of schools.
In Philadelphia, the message of a school district bailout was heard "loud and clear." The Chester Upland School District was unable to meet its one million payroll and expected to have a $20 million deficit by the end of the school year. Recently, a judge ordered the state to give the district a 3.2 million advancement to pay its bills, according to the Philadelphia Inquirer. School officials complained that the state appropriate funds illegally to support charter schools. However, state officials noted that they fund schools by law based on student enrollment.
According to the Center of Budget and Policy Priorities (CBPP), 29 U.S. states have projected or addressed budget shortfalls of 47 billion for the 2013 fiscal year. Among these states, California, Florida and Pennsylvania estimated a total shortfall of 8.4 billion, 2 billion and 746 million respectively. When states are faced with budget shortfalls during an economic downturn, spending cuts are problematic.
These cuts may encompass layoffs of employees, cancellation of contracts with vendors, elimination of companies that provide direct services and postponement of benefit payments to individuals. Consequently, this creates a domino effect in that employees and employers have less capital to spend on products and goods to support the economy. So raising taxes and enacting strategic cuts are essential to address state budget gaps and maintain important services "while minimizing harmful effects of the economy," according to CBPP.
The Golden Rule reminds us to "do unto others as you would have them to do unto you."  When the automotive and financial industries were struggling to balance their budgets, the U.S. government found a way to support them through an emergency bailout initiative. This was done at the expense of taxpayers with the understanding that there would be a return on investment and, also, these organizations would repay their debts to the federal government. Whether or not the loans have been repaid to the government, school districts are faced with a financial hardship placing their students' education in jeopardy. Contrary to popular beliefs, the domino theory suggests: It is time to bail out U.S. school districts.
Dr. Ronald Holmes is the author of the book, Education Questions to be Answered.  He is the President of The Holmes Education Post, an education focused internet newspaper. Holmes is the National Superintendent of Education for the National Save the Family Now Movement, Inc., a former teacher, school administrator and district superintendent.