Is it time to provide students supper in school?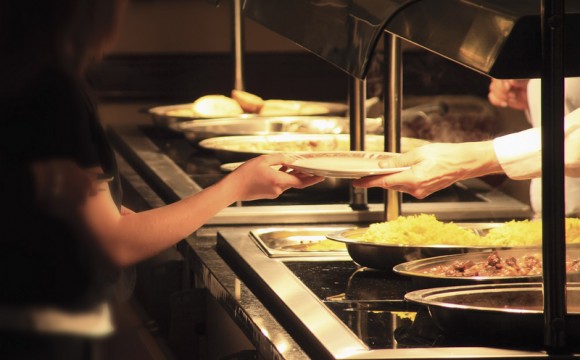 "When it rains, it pours," means that when things go bad in our lives or communities a lot of other things seem to go bad at the same time. For example, in the U.S. economy, we have high unemployment, record level foreclosures and high prices on regular staples such as food and gas.  As a result, 15 percent of households were considered food insecure according to a 2010 study by the United States Department of Agriculture (USDA). Of this, 49 million Americans lived in food insecure households representing 33 and 16 million adults and children respectively.  Households are classified as food insecure with hunger if one or more household members are hungry at some time during the year because the household could not afford enough food.
So the questions to be asked are: Is it time to provide students supper in school? What laws support having supper for students in afterschool programs? What are the pros and cons of providing supper to students in afterschool programs?
Many students are ill-prepared for school because they live in food insecure households.  Without food in the body, it is difficult for an individual to think, comprehend and apply intensely what is being taught in the educational environment.  It is equally difficult for an individual to have the energy to participate competitively in extra-curricular activities at the school.
Congress passed The Agricultural Risk Protection Act 2000 allowing states such as Delaware, Illinois, Michigan, Missouri, New York, Oregon, Pennsylvania and West Virginia to offer federal funding to at-risk afterschool programs that serve meals to children through the age of 18.  Congress passed the Healthy, Hunger-Free Kids Act 2010 expanding the availability of the at-risk afterschool program to provide meals to children in all states.
For a school, public or private organization to be eligible, 50 percent of the enrolled students must be eligible for free or reduced-price meals. The afterschool program must also offer educational or enrichment activities such as tutoring, homework assistance, computer labs, arts and crafts, life skills or physical activities. It must comply with all other guidelines of the Child and Adult Care Food Program including the preparation and maintenance of records for meals being served.
According to a study conducted in Oregon, the Afterschool Supper Program provided an opportunity to feed students who were hungry, attract students to their afterschool program, improve engagement of students during educational activities, reduce behavior issues and develop the potential for community building. In addition, the Supper Program filled a need to provide students with a balanced meal and, subsequently, supported parents in food insecure households due to troubling economic times.
In contrast, the Oregon study reported that the Afterschool Supper Program provided challenges to providers such as insufficient financial resources or volunteers to sustain the educational component of the program. It also faced infrastructural concerns in preparing and serving the meals to students.  For community-based afterschool supper programs, the study suggested that these organizations should partner with school districts for improved food service to students.
According to a recent article in Education Week, "tens of thousands" students participated in the Afterschool Supper Program in the midst of the high poverty rate. Through the funding of USDA, providers across the country afforded students with nutritious supper such as "baked chicken, steamed broccoli, apple slices, whole-wheat rolls and milk." However, getting the programs started could be a challenge for community-based sites. To combat these issues, potential providers should collaborate with their state education agencies for professional assistance and benchmark best practices of school districts that have successful programs.
The Afterschool Supper Program provides an opportunity for schools and community organizations such as churches, YMCAs, Boys and Girls Clubs to create enriching or educational programs to support the needs of students and families. For instance, schools could use the federal program as a hook to encourage students to stay afterschool for homework assistance or tutoring while supervising them prior to their parents' arrival to the schools. This could be a best practice for improving student achievement and affording students a meal in lieu of snacks or no meal when they get home from school. In fact, over 200 California schools have gotten the message to provide an Afterschool Supper Program to students in low-income families according a recent article in the Huffington Post. The expectation is that other schools will participate in the federal afterschool program enabling students in need of a nutritious meal three times a day.
Since we are in a "when it rains, it pours" economy, school leaders must be mindful of the food insecurity that exists in our nation. If children are hungry, it is difficult for them to learn and do well in school. So a close look at the big picture may suggests, "It is time to provide students supper in school."
Dr. Ronald Holmes is the author of the book, Education Questions to be Answered.  He is the Publisher and President of The Holmes Education Post, an education focused internet newspaper. Holmes is the National Superintendent of Education for the National Save the Family Now Movement, Inc., a former teacher, school administrator and district superintendent.