Is the glass half full or half empty?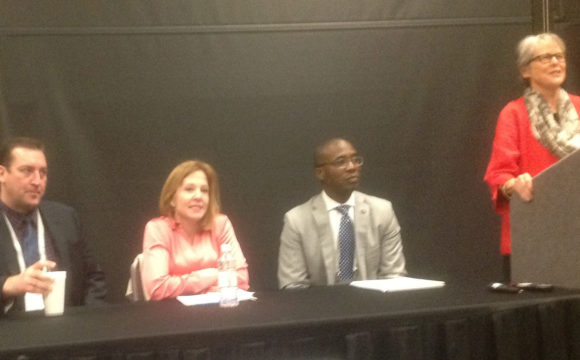 Most people want to know if the glass is half full or half empty. According to Martha Ellis, moderator for a session at the 97th Annual Convention of the American Association of Community Colleges in New Orleans, Generation X community college presidents want to know who drank the water.
Generation X individuals were born after the baby boomers, roughly between the early 1960s and late 1970s. According to research, they are considered to be resourceful, independent and self-sufficient; and they value responsibility and freedom in their work settings. Because of an exodus of sitting baby boomer community college presidents, Generation X is faced with the unprecedented challenge of replacing them.
At the convention, Ellis raised questions of three Generation X presidents on why they became a community college president, how they lead their organizations and advice they give to potential candidates preparing to become community college presidents.
The panel members were Jo Alice Blondin, president of Clark State Community College; Steven Gonzales, president of Gateway Community College and Kirk Nooks, president of Metropolitan Community College-Longview. Each president expressed being in the position to impact positive change in the lives of our future leaders of America. They echoed having a passion for leading their organizations through commitment, strategic planning, networking and mentoring. They emphasized being prepared educationally, mentally and socially to take on the helm of presidency when the moment arises.
For instance, Gonzales noted the importance of understanding the writing process for applying for the presidency such as mastering the art of writing a cover letter and developing a resume germane to the position. Nooks cited the importance of making sure that your family members are on board with your accepting a position. There are numerous times such as the convention that he is away from his family and has to use face-time to keep in touch with his children's activities at home and school, said Nooks. Ellis concluded that the most essential advice to potential candidates seeking a community college position is to find a mentor, build your skills and develop a strong relationship with key constituents.
Ronald Holmes earned a PhD in Educational Leadership, a MED in Educational Administration and Supervision and a BS in Business Education from Florida A&M University. He also earned a MED in Business Education from Bowling Green State University. He is a former teacher, school administrator, and district superintendent.