MISS POLITESSE SAYS, Business Dining 101: Pasta, It's Your Friend!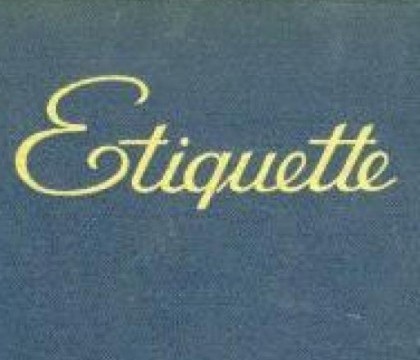 Welcome to "Miss Politesse Says."  Between school, work, and social media, modern men and women do not have the time or desire to read Emily Post, and it shows!  So let this column be your modern-day etiquette guide. I am a young professional living and working in Washington, D.C., and oftentimes I will use this column to discuss questions that I have been asked or interesting behavior that I have witnessed.  Let's get started.
The new year is here, and many of you may be preparing for lunch or dinner interviews. Or some may be attending a first business lunch or dinner.  Whatever the occasion, dining with colleagues, potential colleagues, or clients may cause a bit of anxiety. I have been asked numerous questions on this topic, ranging from what type of food is appropriate to order to how much the meal should cost. I intend to answer these questions and many more over the next few months.
In Part One of this series, I'll tackle the first question: the appropriate food to order.  A widely held business dining etiquette rule is: never order pastas like spaghetti, fettuccine, or linguine.  The rationale behind this rule is simple – these foods generally tend to be very messy.  Most etiquette experts say stick to chicken, steak, or anything that does not require too much concentration – after all, you should be focused on your interviewer, client and/or colleagues, not your food.
Despite this rule, I decided to be adventurous and ordered pasta during one of my interview lunches. When I placed my order, I'm pretty sure I saw my interviewer give me a weird look.  But I succeeded!  And here's how:
Use a fork to pick up a small amount of pasta. Don't overdo it; otherwise, you will likely make a mess.
Before lifting the fork to your mouth, make sure you have separated the pasta on the fork from the pasta on the plate.  The best way to do this is to move the fork up and down slightly. Another way is to (subtly) shake the fork a bit.
3a.      Take your spoon in the hand that is not holding the fork, and place the tines of the fork inside of the spoon. Then, move the fork around in a circular motion. The pasta should be in a circular clump when you're done.
3b.  Italians do not use spoons for pasta eating, and some restaurants may not provide a spoon when you order a pasta dish. If you find yourself in this situation or if you want to come across as more "authentic," place the tines of your fork to the side of your plate that has no food and twirl the fork to gather the noodles.
Either way is proper, so choose the method that feels the most comfortable to you.
4. Eat, repeat, and enjoy!
For more tips, check out my blog: www.misspolitesse.wordpress.com.  Also, if you have an etiquette question or column ideas, e-mail me at [email protected].