Should Tim Tebow be offered a football contract with the Jacksonville Jaguars?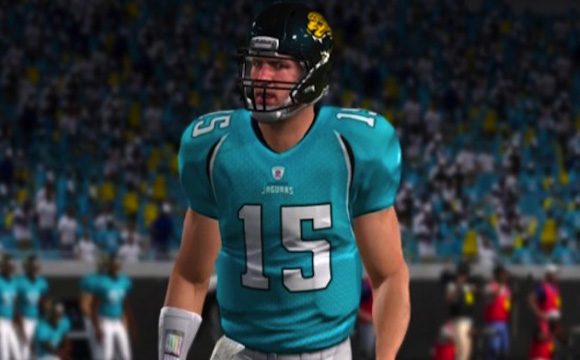 According to ASTD's 2012 State of the Industry Report, U.S. organizations spent $156.2 billion on employee learning and development. Despite ongoing economic challenges, the report's findings reflect the need for senior executives to invest in the development of their employees. While the executives of the Denver Broncos declined to invest in the development of Tim Tebow, the critical questions to be asked are: Should Tebow be offered a football contract with the Jacksonville Jaguars? What was Tebow's performance and style as a starting National Football League (NFL) quarterback? How does Tebow's learning style relate to the value-added model in education? What are supporters of Tebow doing to bring him to Jacksonville? What do some critics say about Tebow being a Jaguar or NFL quarterback?
As a college quarterback, Timothy Richard Tebow held the Southeastern Conference's all-time records in both career passing efficiency and total rushing touchdowns. He was the winner of two National Collegiate Athletic Association – National Football Championships, two-time winner of the Maxwell Award as the nation's top college football player, winner of the Davey O'Brien Award as the nation's best college quarterback, winner of the James E. Sullivan Award as the nation's most outstanding amateur athlete in any sport and the first ever sophomore to win the Heisman Trophy.
While drafted first round in 2010 by the Denver Broncos, it is evident that Tebow's throwing motion as a NFL quarterback is unorthodox compared to traditional NFL quarterbacks. Because Tebow does not fit the norm, he has been criticized about his throwing motion and potential to perform effectively as a NFL quarterback. It was not until the Broncos lost three out of four games, coupled with fans' complaining that Tebow became the starting quarterback for the Broncos. Once he got the opportunity as a starter, Tebow's performance led the Broncos to seven wins out of eight games, advanced the team to win both the American Football Conference West title and a playoff game against the Pittsburg Steelers in overtime.
In contrast to popular belief, Tebow's performance as a NFL quarterback improved considerably with the Broncos over those seven games. Without the flexibility in Denver to perform the quarterback position from an alternative style, Tebow would have been boxed into a one-size-fits-all method for learning and developing on the job. Tebow's employer would have continued to assess his abilities based on a single measure, the traditional throwing motion rather than multiple factors such as motivation, spirituality, leadership, work ethics, athleticism, social background and prior experience on the college level as a winning quarterback.
Similarly, the value-added model in education uses multiple measures to evaluate students' performance over a period of time. Rather than use a single assessment to measure students' performance such as a standardized test, the value-added model uses other performance assessments, in addition to standardized test, to measure their achievement. In fact, the value-added model incorporates academic gains of all students according to their baseline or prior achievement levels. It takes into consideration their socio-economic status, race, gender and emotional or behavioral disabilities. The model is being used by various school districts as an alternative to measure students' performance in lieu of a one-size-fits-all remedy of the No Child Left Behind requirements.
Despite Tebow's spectacular performance with the Broncos, he was traded to the New York Jets after the Broncos acquired free agent quarterback Peyton Manning who, ironically, did not win his first playoff game with the Broncos. While with the Jets, Tebow gained little playing time. He was released by the Jets on April 29 after the team drafted quarterback Geno Smith. On June 11, Tebow signed with the New England Patriots although the team normally carries only two quarterbacks on the roster. Tebow was cut by New England on August 31.
At the start of the 2013 NFL Season, the Jaguars have lost their first two games and are averaging only 5.5 points per game. Approximately five minutes before the end of the first game, which the offense did not score a single point, the stadium was almost empty. While the Jaguars are consistently struggling, this has sparked an outcry of loyal supporters of Tebow. On Monday, September 16, a group of his supporters rallied at EverBank Field for about three hours and 16 minutes for the Jaguars' to bring Tebow to Jacksonville. The duration and starting of the event (3:16 p.m.) is symbolic of the biblical verse John 3:16 and Tebow's painting of his eye black when he played for the University of Florida. The supporters of Tebow plan to rally every Monday from 5:00 – 7:00 p.m. at EverBank in an effort to encourage management to sign the hometown athlete. They believe Tebow would be value-added if afforded the chance to compete as quarterback and that ticket sales would increase significantly. Supporters have developed a website called jags-tebow.com and crafted signs that reads, "JAGS TEBOW, WHY NOT?"
Critics of Tebow have expressed he will never be an effective NFL quarterback. They lament that Tebow's throwing percentage in the league is horrible and that his status will create a media circus for Jacksonville. During the time Tebow was with the Jets, Jaguars' General Manager Dave Caldwell said he had no interest in signing him even if he were released. So unless there is a change of heart in management, Tebow will not be given an opportunity to perform as a quarterback for the Jaguars.
However, Tebow has proven to his critics while employed with the Broncos that other measures should be used to assess the effectiveness of a NFL quarterback. In the same vein, we must consider other measures to assess the effectiveness of students' performance in schools such as the value-added model. In a 21st century workforce, a one-size-fits-all process is unacceptable for our school system and any other organization such as the NFL. Given Tebow's Christianity and accomplishments with the University of Florida and Denver Broncos, it is time for him to gain a contract with the Jaguars. I say, "Let him in coach! He is ready to play!"
Dr. Ronald Holmes is the author of four books, "Education Questions to be Answered," "Current Issues and Answers in Education," "How to Eradicate Hazing and "Professional Career Paths." He is publisher of "The Holmes Education Post," an education focused Internet newspaper. Holmes is a former teacher, school administrator and district superintendent. He can be reached at rwh@theholmeseducationpost.com.