The Product of a Doctoral Dissertation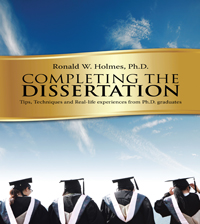 Just as the general public relies on the medical research of doctors to address the illnesses in society such as cancer, diabetes and Alzheimer, the general public should consistently rely on the empirical research of educators with advanced doctoral degrees to address the issues in education such as student achievement and graduation rates. In fact, the product of a quality, education-related doctoral dissertation approved by an accredited university can provide solutions to the many problems plaguing public K-20 education.
In 2014, Ronald Holmes interviewed 33 professionals in different academic disciplines (humanities, social sciences, nature sciences, formal sciences and professional and applied sciences) who have successfully fulfilled all the requirements for the Doctor of Philosophy (Ph.D.) This research became the publication of The Holmes Education Post's book on "Completing the Dissertation: Tips, techniques and real-life experiences from Ph.D. graduates." The purpose of this book is to help potential and current graduate students learn from Ph.D. graduates who successfully completed the dissertation.
Thus, as U.S. public schools seek ways to improve their organizational climate, they should look to the valuable research found in dissertations. To order this book, which shares the real-life stories, tips, techniques and sage advice for mastering your personal life and time while embarking upon the dissertation, visit: Amazon.com; Authorhouse.com; or Barnes and Noble.
Dr. Ronald Holmes is the author of 11 books: "Jacob's Dream! A Lesson on Alphabets and Continents," "How to Eradicate Bullying," "Education Questions to be Answered," "Current Issues and Answers in Education," "How to Eradicate Hazing," "Professional Career Paths," "Your Answers to Education Questions," "How to revitalize the National Baptist Convention, USA, Inc." "Completing the Dissertation: Tips, techniques and real-life experiences from Ph.D. graduates." "Jacob's Dream, A Story of Careers for Children" and Jacob's Dream, A Story of Animals in Africa. He is publisher of "The Holmes Education Post," an education focused Internet newspaper.  Holmes is a former teacher, school administrator and district superintendent. He can be reached at [email protected]