What career path can lead to a financial planner?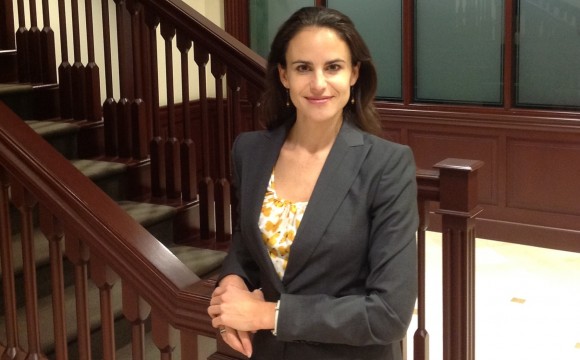 As an avenue to inform the public, particularly students, of career paths for successful employment, The Holmes Education Post continues its segment of interviewing professionals in different fields. Our distinguished interviewee is Ms. Hanna E. LaHood, vice president/financial planner for Morgan Stanley Smith Barney, which is a financial services corporation. An excerpt of the interview with LaHood follows:
Q. What career path or interest led to your profession?
A. I was interested in math and money at an early age. My parents instilled in us the importance of being responsible with our money, whether from allowance or gifts, and setting aside as much as possible in savings so that it could grow. I always enjoyed watching my mother manage the books and finances for the family business, and assumed I would like to be an accountant. However, I quickly changed my accounting major to economics and finances after finding accounting classes to be too "dry."
Q. What educational background and professional training are essential for your profession?
A. I double-majored in finance and economics and minored in marketing and communications. Even though these classes didn't directly teach me how to be a financial advisor, they all touched on topics that are still relevant in my job today as I study the markets, behavioral finance and working with prospects and clients. My training was predominantly on-the-job training gained during my internship with Merrill Lynch and subsequent experience as an advisor. In addition, I did extensive studies and testing for the CFP® designation which provided more direction for my role in financial planning.
Q. What influenced you to pursue a career as a financial planner?
A. I was interested in the business world with a desire to help people define and hopefully, achieve their financial goals. I discovered that many of my friends in college didn't know how to manage their money, whether that was balancing a checkbook or savings early for retirement. When I interned at Merrill Lynch, I realized that plenty of intelligent adults fall in the same category and that there's a whole world of financial solutions beyond just money markets and certificates of deposits that can help grow wealth. I wanted to pass on that knowledge to others while navigating the changes that come with the business world.
Q. What advice do you give to students who desire to pursue a career as a financial planner?
A. You must be a motivated self-starter with a lot of patience and perseverance. My job is not all about having financial skills or being a good stock picker. It is an entrepreneurial business and the exciting part is that you can structure your practices in many different ways—from having more of a focus on planning to strictly managing investments.
In today's market, it's not uncommon to be faced with issues ranging from investments and taxes to mortgages and life insurance. There is a strong demand from all sides for performance, but educating clients and managing expectations is just as critical. A financial planner/advisor needs to have a good understanding of the financial markets, but also a good understanding of people. Money touches virtually every aspect of our lives and, therefore, I think it's important to manage your finances in a way that enhances your life instead of detracts from your life.
Q. Describe your typical work day?
A. My typical work day involves reading financial news to get a sense of any stories that may affect the markets. I have phone calls and meetings with clients to review status of the financial picture, discuss the market and performance and any items that may be going on in their lives. We address any outstanding items such as estate or tax planning, mortgages, insurance, education, etc. Meetings with prospects involve an introduction to my services, education about financial topics, but mostly, discovery of their current situation and exploration of the financial future they envision.
We sincerely thank Ms. Hanna LaHood for sharing her experience and expertise as a financial planner/advisor with Morgan Stanley Smith Barney. We encourage other professionals of organizations to share their experiences as an avenue to improve public education. For consideration, contact us at [email protected]
Dr. Ronald Holmes is the author of two books, "Education Questions to be Answered" and "Current Issues and Answers in Education." He is president of "The Holmes Education Post," an education focused Internet newspaper. Holmes is the national superintendent of education for the National Save the Family Now Movement, Inc., a former teacher, school administrator and district superintendent. He can be reached at [email protected]