What career path can lead to a gastroenterologist and hepatologist?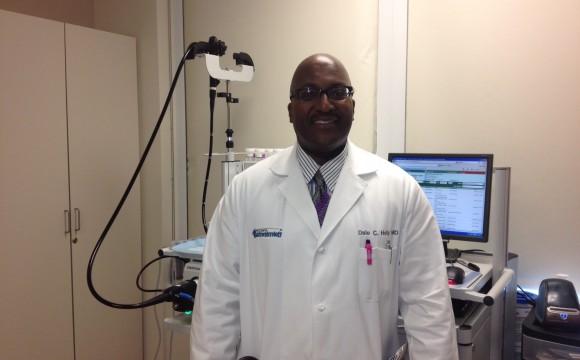 People often avoid going to the doctor especially for a colonoscopy. However, colorectal cancer (cancer of the colon) is the second leading cause of cancer deaths of women and men in the U.S.  The lifetime risk of developing colorectal cancer is one in 20.  According to the Centers for Disease Control (CDC), colorectal cancer screening saves lives and if everyone who is 50 years old or older were regularly screened, 60 percent of deaths from this cancer could be avoided.
With March being the National Colorectal Cancer Awareness Month, this week's column explores the role of the medical profession.  Specifically, the questions to be asked are: What career path can lead to a gastroenterologist and hepatologist?  What educational background and professional training are essential for the profession? What influenced Dr. Dale C. Holly to pursue a career in medicine as a gastroenterologist and hepatologist? What advice does Holly give to students who desire to pursue a career in medicine?
According to research, a gastroenterologist studies the stomach and intestines and their functions and specializes in the diagnosis, prevention and treatment of diseases of the stomach and intestine; whereas, a hepatologist studies the liver and its functions and specializes in diseases of the liver.
Dr. Dale C. Holly is a native of Malvern, Ark.  He currently resides in the Atlanta area with his wife, Colleen, son Matthew and daughter Madeline. Holly opened his private practice, the Atlanta Gastroenterology Associates, LLC in July 2000.  As a gastroenterologist and hepatologist, Holly says his work consists of performing consultations on patients with a variety of health challenges including but not limited to the evaluation of acid reflux disease, peptic ulcer disease, gallstones, liver disease and diseases of the intestinal tract. While practicing medicine in a profession that is extremely fulfilling and challenging, Holly says he performs a variety of procedures including upper endoscopy, colonoscopy, liver biopsies and procedures on the biliary tract and rectum.
With the small number of students pursuing majors in science, Holly says that he always had a strong interest in science and medicine as his grandfather was a mortician and he observed his tremendous work at a very young age.  Both Holly's grandfather and father, who was an educator, were his earliest role models who had a significant impact on his career path.  Holly says he was also influenced to pursue medicine by his mother who is a retired nurse. He says his parents provided positive feedback and support to him that was immeasurable.
Because of this strong parental support and guidance, Holly earned a bachelor of science degree in zoology with a minor in chemistry at the University of Arkansas and a doctor of medicine at the University of Arkansas for Medical Sciences.  Holly says while in medical school he had the wonderful opportunity to work with a gastroenterologist in Little Rock, Ark. who inspired him to pursue a career in gastroenterology and hepatology.
To meet the requirements for the profession, Holly completed an internship and residency in internal medicine at Emory University Affiliated Hospitals followed by a three year fellowship in gastroenterology and hepatology at St. Louis University Health Sciences Center.  While Holly has worked four years in private practice as a gastroenterology and hepatology in Tennessee, internist at Kaiser Permanente in Atlanta and former clinical assistant professor of medicine at Emory University School of Medicine, he says in this profession, "you must possess strong social skills and have a genuine compassion and love of humankind."
As a part of the requirements for being a gastroenterology and hepatology, it is equally important that doctors in this profession are certified and affiliated with various professional organizations. As such, Holly is certified by the Diplomat American Board of Internal Medicine and Subspecialty Board, Gastroenterology.  He is a member of the American Gastroenterologic Association, the American College of Gastroenterology and the American Society for Gastrointestinal Endoscopy. For leisure, Holly participates in Big Brothers, works with his son's Club Scout troop and helps in career day at local elementary schools.
For students who desire to pursue a career in medicine, Holly encourages them to consider the gastroenterology and hepatology profession. In fact, he says the profession "is the most noble and satisfying profession on the face of the earth."  He also says that "tending to and helping heal the sick and afflicted, is the most humbling and gratifying feeling one can experience."
With March being the National Colorectal Cancer Awareness Month, we encourage those age 50 or older to get preventive screening and age 45 for African-Americans since they have higher risk factors.  We sincerely thank Dr. Dale Holly for sharing information on the profession of gastroenterology and hepatology and the importance of this field to overall health. To gain more information about health education, Holly will write a bi-monthly article in the Health Corner of The Holmes Education Post.  Stay tuned!
Dr. Dale C. Holly, Atlanta Gastroenterology Associates, LLC. 1800 Howell Mill Road, Suite 60, Atlanta, GA 30318  (404) 351-9512.
Dr. Ronald Holmes is the author of the book, Education Questions to be Answered.  He is the President of The Holmes Education Post, an education focused internet newspaper. Holmes is the National Superintendent of Education for the National Save the Family Now Movement, Inc., a former teacher, school administrator, and district superintendent and can be reached at the following website address: [email protected].