What career path can lead to a senior vice president?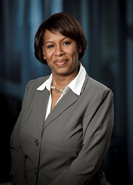 "You are in good hands with Allstate," reminds us of the importance of having the right type and amount of insurance to protect our loved ones. This week, The Holmes Education Post continues its career segment by interviewing Ms. Cheryl Harris, senior vice president for Allstate Insurance. An excerpt of the interview with Harris follows:
Q. What career path led to your profession?
A. I hadn't really thought about procurement as a career or profession. After college, I accepted a job offer as a business systems analyst with a company in Minneapolis. When I arrived, the role had only one month left in its useful life – they were disbanding the project. Fortunately, they offered me another position as an assistant buyer, which I accepted. Accepting that position turned out to be one of the best decisions I've made in my life and got me excited about a career in procurement.
Q. What educational background and/or professional training are essential for this profession?
A. Strong communication and interpersonal skills are vital as the job requires interaction with both internal clients and external suppliers. Knowledge of procurement techniques and principles is key including sourcing process, contracting, negotiations and supplier management. It's also important to have analytical, project management and organizational skills.
Q. What influenced you to pursue a career in insurance?
A. I got a phone call from a recruiter at Allstate looking for a chief procurement officer. I wasn't looking for a job—I was enjoying my role, doing service delivery for Accenture clients across the U.S. I managed teams in Canada, the U.S. and South America – plus six commercial clients. However, when I got the call from Allstate, I had a lot of support from my leaders and my mentors across the company, and I decided to go for it. I've been with Allstate for over a year now, and I'm really enjoying the company and my role.
Q. What professional, civic or community organizations do you belong?
A. I'm the senior executive sponsor for Allstate's relationship with Florida A&M University (FAMU). I'm a member of Alpha Kappa Alpha Sorority, Inc. and serve on the FAMU Foundation Board. I'm key executive and chair of the Business and Industry Cluster at FAMU, responsible for engaging corporate partners to optimize their relationship with the university through curriculum development, recruiting and sponsored research.
Additionally, I serve on the board of the National Gay and Lesbian Chamber of Commerce, the board of directors for Teen Living Program in Chicago and the board for the Chicago Humanities Festival. I'm an avid spokesperson for Allstate's Quotes for Education program. Allstate launched the program in 2009 to support scholarship funds at Historically Black Colleges and Universities (HBCUs) across the country.
Having attended an HBCU, I'm excited to take part in the program and help raise awareness and scholarship money. Between now and December 31, for every person who receives an insurance quote and mentions Quotes for Education, Allstate will donate $10, up to a total donation of $150,000 that will be specifically earmarked for scholarships.
To get involved, visit allstate.com/represent to find the nearest participating agent or request an online quote, or call 855-REP-HBCU at any time to receive a quote from an Allstate representative. You can also show your school spirit by voting for your favorite school. The school with the most votes will receive a $50,000 donation to distribute to students in the form of scholarships.
Q. What advice do you give to students who desire to pursue a career or upper management position in insurance?
A. Find good mentors and sponsors and know the difference. One of my early sponsors was an actuary by trade. He helped me learn and appreciate a very different side of the business—to navigate areas that I otherwise would not have had access. I also had a very robust set of mentors who taught me that mentoring goes two ways. It's give, not just take. To this day, I continue to have very strong relationships with them. Appreciating the value of those relationships, I also continue to serve as a mentor myself.
Q. What is your job description and/or typical work day?
A. My main responsibilities include optimizing Allstate's spend portfolio of $7.5B through collaboration with internal business partners and driving innovation with external suppliers. I also oversee Allstate's Supplier Diversity program, which is focused on increasing opportunities for small, minority and women-owned businesses and driving approaches for their ongoing growth and development. Our team focuses on both direct and indirect categories. When you think of indirect, you typically think of travel, marketing, human resources and other professional services. There's also IT, hardware, software, peripherals, facilities and real estate, and other enterprise types of categories. Because of the value that we bring, our team works very closely with all of the business units across the company.
Establishing relationships with suppliers who have the right service levels and quality is an important task. It's one that our team takes very seriously because when our policyholders file a claim, it's our collective responsibility to make sure that those policyholders have the best experience possible.
We sincerely thank Ms. Cheryl Harris for sharing her experience and expertise as a senior vice president for Allstate Insurance. We encourage other professionals to share their experiences as an avenue to improve public education. For consideration, contact us at [email protected]
Dr. Ronald Holmes is the author of two books, "Education Questions to be Answered" and "Current Issues and Answers in Education." He is publisher of "The Holmes Education Post," an education focused Internet newspaper. Holmes is the national superintendent of education for the National Save the Family Now Movement, Inc., a former teacher, school administrator and district superintendent. He can be reached at [email protected]