What career path can lead to becoming a curriculum technologist?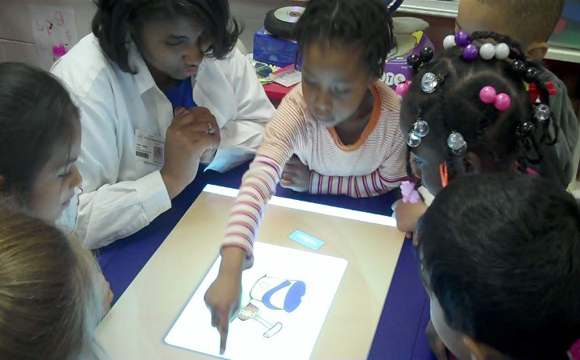 The San Francisco 49ers' favorite quote is, "Who has it better than us?" In my opinion, our illustrious teachers have it better than the 49ers and any other organization, group, or profession. Teachers are the most talented, knowledgeable, skillful, respectful, committed and energetic persons on the universe. With a taxing schedule, they take on the immense responsibility of preparing American children for careers such as lawyers, doctors, engineers, nurses, farmers, etc. Teachers are indispensable.
With appreciation for K-12 schools, The Holmes Education Post continues its segment of interviewing professionals in different fields to inform the public, particularly students, of career paths for successful employment. Our distinguished interviewee is Ms. Tamika Jordan, curriculum technologist for Avondale Elementary School in Marion, Ark. An excerpt of the interview with Jordan follows:
What career path led to your profession?
In 2003, I began to teach at Avondale Elementary School in Marion, Ark. I taught in the preschool program. I had two educational assistants who were in college at the time. They were taking introduction to technology. They would often ask for my assistance with things they did not understand. One of them said, "You should be teaching this class." Since I had no formal training in technology, they suggested that I return to school and get my Master's Degree. I went back to school and obtained a second degree with an emphasis on instructional technology. After moving to a first grade classroom at Avondale with SMART technology, my increased knowledge of technology fueled my desire to become efficient in the use of it. In 2009, our school district gained additional Title I funds that allowed for my principal to create another position. I became the curriculum technologist for our school, which is the capacity where I currently serve.
What educational background and/or professional training are essential for this profession?
For the profession of curriculum technologist, it is first essential to have a Bachelor's Degree in education in order to develop pertinent knowledge of child development and best practices for teaching and learning. It is possible to perform in this profession with only an education degree; however, an emphasis on instructional technology will provide essential skills necessary for critiquing and choosing appropriate technology tools for students. With technology growing and changing at such a rapid pace, it is crucial for those in the field to stay abreast of current and future technology.
What professional, civic or community organization do you belong?
Professionally, I am a member of the Milken Family Foundation as a National Milken Educator. I am a member of the SMART Technologies organization as a SMART Exemplary Educator as well as a SMART Certified Interactive Teacher. I also serve as a technology coach with the Arkansas Leadership Academy (Teacher Leadership Institute). In my community, I am a member of Raising the Standard International Ministries, where I serve as a facilitator in the Christian Education Department. I am also a member of the Crittenden County Chapter of the NAACP.
What advice do you give to students who desire to pursue a career as a teacher and curriculum technologist?
I encourage students to get in involved inside the education system in some capacity prior to starting this career path. This could be working as an educational assistant, substitute or a volunteer at a local school. This experience will demonstrate the reality of teaching. It will help forge an understanding of the complexity of this profession. Teachers wear many hats. For example, a teacher can be a communicator, a disciplinarian, a conveyor of information, an evaluator, a classroom manager, a counselor, a member of many teams and groups, a decision-maker and a role-model. Many of these roles require skills that are not necessarily taught in a teacher education program. Many leave the profession because it is not what they thought it would be.
Believe! Please believe in all students and don't give up on them. Set high expectations for every student and hold them to their individual expectations. As the teacher, be willing to do whatever it takes to help a student to understand the information. Sometimes students truly don't get it, be patient and explain it again. You may have to explain it in a different way. It is important to make sure no one is left behind. This requires being knowledgeable about learning styles and various teaching strategies and methods.
What is your job description and typical work day?
My job description is to co-design and/or co-teach lessons that integrate current curriculum and technology tools to raise student achievement for all students. I teach responsible use of both hardware and software technology systems. I model the use of technology skills for teachers and students. The position also calls for me to monitor and evaluate the performance of the school's hardware and software. My responsibilities also include sharing effective practices in curriculum/technology integration by planning, preparing and implementing workshops for classroom teachers.
A typical work day includes talking with teachers to discover the areas of improvement for their students. I then design activities for the SMART table and SMART board to reinforce those areas. I also talk with teachers about upcoming skills that will be taught. I research effective strategies for using technology tools to complement the classroom learning and evaluate iPad apps for teachers to determine those that are most effective and beneficial for our kindergarten and first grade students. I support teachers in any way as they expand inquiry and learning in their classroom.
We sincerely thank Ms. Tamika Jordan for sharing her experience and expertise as a curriculum technologist with Avondale Elementary School in Marion, Ark. Please go to the resource section of The Holmes Education Post and view a videotaped teaching demonstration of her classroom. Please go to the resource section of The Holmes Education Post and view Jordan's videotaped teaching demonstration of her classroom utilizing Whole Brain Instruction.
Dr. Ronald Holmes is the author of three books, "Education Questions to be Answered," "Current Issues and Answers in Education" and "How to Eradicate Hazing." He is publisher of "The Holmes Education Post," an education focused Internet newspaper. Holmes is the national superintendent of education for the National Save the Family Now Movement, Inc., a former teacher, school administrator and district superintendent. He can be reached at [email protected]