What career path can lead to being a farmer?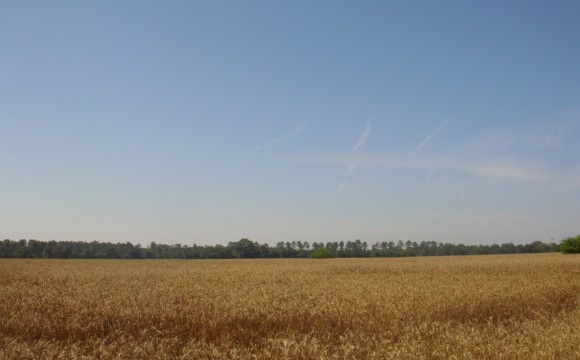 There are over 285 million people living in the U.S. according to the U.S. Environmental Protection Agency (USEPA). Of that population, less than one percent are farmers – operating approximately two million farms. While farms and farmers have declined significantly since the 1930s, the demand for agricultural products has increased. The demand is being met with the aid of large farm equipment, improved crop varieties, commercial pesticides and fertilizers.
A farm is any establishment that has produced or sold $1,000 or more agricultural products during a year according to the USEPA. Ninety percent of farms are owned or operated by individuals or families. Our interviewee for this segment on careers is Mr. James Mays. He is owner operator of the Mays Family Farm in Lee County, Georgia. An excerpt of the interview with Mays follows:
Q. What interested you in this profession?
A. I enjoyed helping my dad and uncles as a child growing up on the farm. As a fourth generation farmer in the Mays family, I was the only one of my siblings who wanted to take over the family farm. Watching my dad as a child made farming seem like a cool job, especially since my dad was his own boss. I also wanted to farm because I enjoy watching plants grow from a seed to large plants.
Q. What professional training is essential for this occupation?
Basically, anyone with a desire to farm and has five acres or more can be a farmer. With five acres you can sign up at the Farm Service Agency (FSA) to gain all the rights to all government programs and services. I learned all the proper procedures to be a good farmer by watching my dad and uncles.
I knew in high school that I wanted to run the farm, so I took all the Future Farmers of America (FFA) classes, as well as the 4H classes. I attend classes several times a year through Lee County's agency office. The county educates farmers on the proper way for planting, preparing the land, fertilizing the land and using chemicals.
I initially learned how to apply chemicals as a teenager from my uncle Bob (Robert) Mays who has a degree in chemistry. When my dad farmed, they could get pesticides and herbicides with no problem. The U.S. Environmental Protection Agency (EPA) changed 20 years ago in that farmers must attend classes in their county government building to get a license to purchase farm pesticides and herbicides. In my region, some of the classes are held in Plains, Ga. and at Fort Valley State University.
Q. What advice do you give to students who desire to pursue a career as a farmer?
A. I would advise any student interested in farming to make sure that they take all the FFA classes in high school, 4H classes and to get a degree in agriculture from Fort Valley State University or University of Georgia.
Q. What is your typical work day?
A. I start my day by checking the oil in all of my equipment to be used that day. Of course, each day is different depending on the time of the year. Spring is the busiest time of the year for planting peanuts, cotton and soybeans, which have to be planted by the end of May. Each one of these crops takes approximately 120 – 150 days before harvest time depending on the weather. Outside of planting, many days are spent picking up parts and giving instructions to workers.
Once all the crops are planted, we have to spray all fields with pesticides and herbicides and sometimes walk the fields and pull wild weeds. In mid fall, we are busy harvesting the peanuts, cotton and soybeans. The pressure is on to get the crops out of the field between rainstorms and before the hard cold hits. Wheat is planted behind the peanuts to be harvested in the spring during April or the beginning of May. As always, weather determines when the process begins and ends.
There is always something to do on the farm, even during the off season, with tilling the land in preparation for the next planting season, working on equipment, shopping for the best prices for seeds, fertilizing the land, using the chemical and talking with bankers to secure operating loans for the next farm season.
In addition, the county agent classes are usually held during the off-season at the University of Georgia and Fort Valley State University to update farmers on new procedures involving the pesticides and herbicides in order for farmers to maintain their chemical license.
Farming is one of the most noble professions as it supplies food for all humankind. We sincerely thank Mr. James Mays for sharing invaluable information about his training, experience and passion for being a farmer.
Dr. Ronald Holmes is the author of two books, "Education Questions to be Answered" and "Current Issues and Answers in Education." He is president of "The Holmes Education Post," an education focused Internet newspaper. Holmes is the national superintendent of education for the National Save the Family Now Movement, Inc., a former teacher, school administrator and district superintendent. He can be reached at [email protected]