What career path can lead to captain of the Tallahassee Police Department?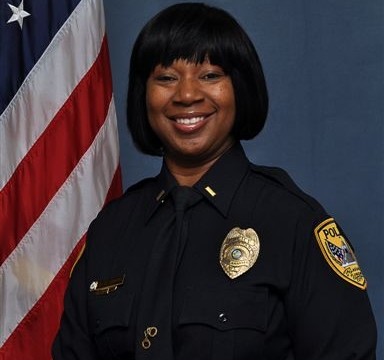 Students attend college with the hope of earning a good job. Some major in business administration to become a corporate executive. Others may major in education to become a teacher. Whatever the major, those that follow the appropriate career path, combined with their personal interest and commitment to the profession, lead to the ultimate objective: employment.
With the alarming unemployment, high school and college dropout rates, the questions to be asked are: What career path can lead to captain of the Tallahassee Police Department (TPD)? What education is essential for this position? What advice does the captain give to students who desire to pursue a career in law enforcement?
On October 3, 2011, Audrey R. Smith, a native of Cordele, Georgia was officially sworn in and promoted to captain of the Tallahassee Police Department. As the mother of two children, Larrynnee and Justus, she becomes the highest-ranking African-American female in the department and the second female of color to hold such title in the agency's 170-year history. Argatha R. Gilmore, current Chief of Police for Lake City, Florida was the first.
Captain Smith joins the TPD Command Staff as leader of the Special Operations Division. She will be responsible for overseeing the planning of special events city-wide and working closely with university officials and city entities and community organizations to create safe venues where citizens of Tallahassee can enjoy structured events. Units under her command will also handle traffic enforcement and airport security.
According to Captain Smith, a combination of education and work experience was instrumental in preparing her for the new assignment with TPD. Smith earned a bachelor's degree in criminal justice and a master's in applied social sciences with an emphasis in public administration from Florida A&M University. She is a certified public manager and has several hundred hours of specialized training in topics ranging from community policing to incident command to leadership strategies.
Over the past 23 years, Smith has served the TPD in a variety of assignments. In addition to being a patrol officer, she is certified as a crime prevention practitioner and burglary/auto theft investigator. Promoted to Sergeant in 1996, Smith worked in patrol, served as the agency's accreditation manager and led the Crime Prevention Unit as the state of Florida's Crime Prevention Unit of the Year in 2006. Smith was promoted to the rank of Lieutenant in 2010 where she was one of six watch commanders in the Patrol Districts prior to becoming the assistant division commander in Criminal Investigations Division Property Section. She is also an assessor and team leader for the Commission on Florida Law Enforcement Accreditation and a member of the Black Law Enforcement Executives. With all these positions, Smith is considered a leader amongst her peers for employing innovative approaches to problem-solving. Glen Sapp, assistant chief of police in Quincy, Florida and college classmate of Captain Smith says that "she has always been a bright, positive and 'get it done' type of person."
Captain Smith says that she knew at an early age that she wanted to be a police officer. Although the profession does not always require a college degree, she opted to pursue her calling by first obtaining a degree in criminal justice. Smith promised her mother that she would acquire a college degree prior to entering into a law enforcement career. Captain Smith says that "continuing her education and obtaining a master's degree was a personal goal and accomplishment." Although it was not a prerequisite to her positions at TPD, Smith says she is a firm believer that knowledge is power and that "staying abreast of current trends and issues in the community and law enforcement leads to sound decision making."
As an advice to students, Captain Smith says that Law enforcement agencies should be representative of the community that it serves. Minorities are needed at most law enforcement agencies to balance agency demographics. Smith feels that African-American students who are interested in pursuing a career in law enforcement should remember that obtaining rank is not an automatic accomplishment. As with most careers, one typically begins in an entry level position such as patrol prior to moving into more specialized areas such as investigations. Smith says that perseverance, dedication and hard work are characteristics necessary for movement into specialized areas and for upward mobility. Applicants must be motivated to perform but realize that upward mobility does not occur overnight. Movement at any level involves rigorous training and preparation.