What career path can lead to owner of Innovative Senior Solutions?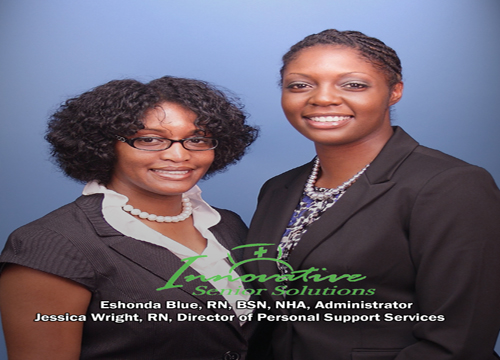 The 65 and older population increased from 35 million in 2000 to 40 million in 2010. With the "baby boomers" reaching age 65 between 2010 and 2020, the older population is projected to increase to 55 million in 2020 and 72.1 million in 2030 according to the U.S. Department of Health and Human Services (USDHHS). While many older Americans have multiple chronic conditions, USDHHS reports that the most frequently occurring conditions among them were arthritis, hypertension, heart disease, cancer and diabetes.
The Holmes Education Post continues its segment of interviewing professionals in different fields to inform the public, particularly students, of the career paths for successful employment. Our distinguished interviewee is Ms. Jessica Wright, co-owner of Innovative Senior Solutions (ISS) with her sister Ms. Eshonda Blue. Both are licensed Registered Nurses (RNs).
ISS started in 2005 in Sumter County, Ga. providing personal care and sitter services for seniors who are at risk of being placed in a nursing home, and for individuals with a medical disability. Since its inception, ISS has grown to serve eight Georgia counties with over 150 clients covering Webster, Sumter, Schley, Lee, Marion, Macon, Dooly and Crisp counties. With the staffing of over 50 employees such as RNs, LPNs CNAs and administrative support, ISS services have expanded to include two Adult Day Health Centers, Skilled Nursing, Personal Care and Sitter Services, Respite Care, Nurse Aide Training Program and transportation. An excerpt of the interview with Wright follows:
Q. What career path led you to start your business?
A. Working in the nursing home for the majority of our careers, we saw a lot of individuals that were in the nursing home that could have been maintained in their own home and community with minimal assistance. Help in the home can be provided through certified nursing assistants (CNA) who assist with daily living activities such as bathing, dressing, toileting, ambulation, meal preparation and medication reminder. This assistance creates a safe and stable environment for clients to live at home.
Q. What educational background and professional training are essential for your business?
A. I graduated from Darton College in Albany, Ga. with an associate degree in Nursing, and I am a licensed Registered Nurse. Prior to becoming co-owner and director of Innovative Senior Solutions (ISS), I worked in every role of nursing. I started as a CNA and advanced to a charge nurse and RN supervisor. My business background comes from being raised in a family full of entrepreneurs such as my great grandfather, grandfather, father, uncles and aunts. Seeing how they ran successful businesses is how I got my business background and exposure. It was just in my DNA!
Q. What influenced you to pursue your business?
A. Our grandmother lived at home and required assistance with her daily living activities. The agencies that provided services were two to three hours away, and the CNAs they sent were not dependable. Our grandmother told us she never wanted to go in a nursing home. My sister and I wanted to fulfill her wishes. We thought, why couldn't we start our own business doing in home care. We realized there was a need for services in the area that were not being provided locally. Our combined experience as a RN and passion for the elderly led us to start ISS.
Q. What professional, civic or community organization do you belong to that support your business? What are some of your accomplishments?
A. My sister and I are members of Sumter County and Crisp County Chamber of Commerce, Kiwanis Club, Rotary Club, Downtown Development Authority, Sumter Archway Partnership Leadership and Alpha Kappa Alpha Sorority Inc. We also serve on several advisory boards such as South Georgia Technical College Marketing Department, Georgia Southwestern School of Nursing and Georgia Southwestern School of Business.
We were awarded Excellence in Business by the Rho Sigma Omega Chapter of Alpha Kappa Alpha Sorority Inc. in May 2011, and the Small Business of the Year 2011 Award by the Americus-Sumter Chamber Commerce in February 2012. One of our Certified Nursing Assistants, Beulah Jackson, was awarded Caregiver of the Year for the state of Georgia from the Rosalynn Carter Institute in October 2011.
Q. What advice would you give to people who desire to start a business similar to yours?
A. To be successful in this field, one must first be passionate about what they are trying to do. The second most important quality is to be disciplined, which includes being hard-working and consistent. It is also imperative to have good leadership ability and to develop strong relationships in the community through networking.
We thank Ms. Jessica Wright and Eshonda Blue for allowing us to learn about Innovative Senior Solutions and the impact it is having on the South Georgia community. We encourage other professionals of organizations to share their experiences as an avenue to improve public education. For consideration, contact us at [email protected]
Dr. Ronald Holmes is the author of two books, "Education Questions to be Answered" and "Current Issues and Answers in Education." He is publisher of "The Holmes Education Post," an education focused Internet newspaper. Holmes is the national superintendent of education for the National Save the Family Now Movement, Inc., a former teacher, school administrator and district superintendent. He can be reached at [email protected]