What career path can lead to owner of Inspire and Engage Consulting Services?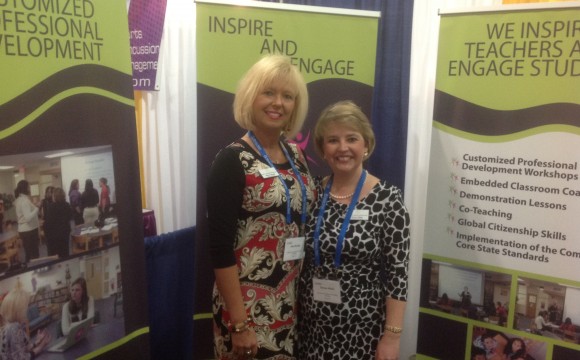 With the plethora of school challenges such as adequate yearly progress, common core state standards and differentiated instruction, effective professional development is essential to the improvement of teaching and learning in the educational environment. As an avenue to inform the public, particularly students, of career paths for successful employment, The Holmes Education Post continues its segment of interviewing professionals in different fields. Our distinguished interviewees are Alisa H. Braddy and Denise White, owners of Inspire and Engage Consulting Services, which provides professional development to schools. An excerpt of the interview with Braddy and White follows:
Tell me about your company?
Our professional development is completely driven by the individual needs of the school and/or district. Any given week you might see us conducting a workshop one day, demonstrating a lesson the next day, coaching teachers in their classrooms the next day, conducting grade-level meetings the next day and working with a school leadership team the next day.
What career path led to your profession?
We both began our careers as elementary/middle school teachers. Through our own professional development experiences, we began having opportunities to train teachers in our own districts. This led to both of us becoming district instructional coaches and then contracting with education consulting companies. We met each other when working for the same consulting company and found that our styles and philosophies connected beautifully and that our strength was working together to customize trainings to meet the unique needs of each school and district. In 2011, we started Inspire and Engage Consulting Services to offer this kind of customized professional development to all schools.
What influenced you to pursue a career as entrepreneur?
The autonomy to provide the type of professional development we are passionate about to schools across the nation.
What advice do you give to students who desire to pursue a career as a consultant to schools?
Get experience first–this will make you more confident, competent and respected in your career. Always give your personal best so that at the end of the day, no matter what the outcome is, you can feel pride and satisfaction in what you brought to the table. Persevere–don't expect everything to come together overnight. Above all, have personal and professional integrity. This is what will make you a stand-out professionally and keep you balanced personally.
We sincerely thank Alisa H. Braddy and Denise White for sharing their professional and personal experiences as owners of Inspire and Engage Consulting Services.
Dr. Ronald Holmes is the author of three books, "Education Questions to be Answered," "Current Issues and Answers in Education" and "How to Eradicate Hazing." He is publisher of "The Holmes Education Post," an education focused Internet newspaper. Holmes is the national superintendent of education for the National Save the Family Now Movement, Inc., a former teacher, school administrator and district superintendent. He can be reached at [email protected]