What Career path can lead to President and CEO of a Chamber of Commerce?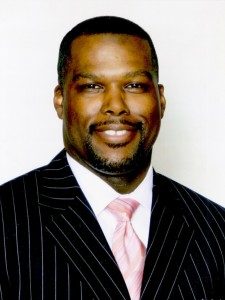 In the movie, "Men of Honor", Carl Brashear played by Cuba Gooding, Jr., had no idea what he wanted to be in life. "The light bulb" came on when he entered the U.S. Navy and saw a master navy diver.  At that moment, he realized that he had the talent and desire to become a master diver.  Even today, many of today's youth have no idea what career they want to pursue in life and do not declare a major until very late in their college career.  Even then, some youth try many professions before they settle into their life's journey.
So the questions to be asked are: What career path can lead to president and CEO of a chamber of commerce? What education and training are essential for this position? What influenced Leonardo McClarty to become president and CEO of DeKalb Chamber of Commerce? How does DeKalb's Chamber of Commerce provide support to DeKalb County School System? What advice does Leonardo McClarty give to students who desire to become a president and CEO of a chamber of commerce?
According to research, a "chamber of commerce is a local organization of businesses whose goal is to further the interests of businesses.  Business owners in towns and cities form these local societies to advocate on behalf of the business community.  Local businesses are members, and they elect a board of directors to set policy for the chamber.  The board then hires a president and CEO plus appropriate staffing to run the organization."
To understand the career path of a president and CEO of a chamber of commerce, I interviewed Leonardo McClarty who became executive director of DeKalb's Chamber of Commerce in September 2004. As president and CEO, McClarty is responsible for formulating and executing DeKalb's strategic plan, overseeing the fiscal oversight of a $600,000 annual budget, managing five employees and working collaboratively with 40 business and civic leaders. He is responsible for developing, implementing and overseeing organizational development, leading business, community and government agency relationship building initiatives and advocating for the business community with state government officials to establish a pro-business climate.
McClarty's position also allows him to provide support to the DeKalb County School System. He says that the chamber seeks to pair businesses with schools via partnership programs, support the system by participating in various career days and work closely with the superintendent on other business related matters where business leaders can provide their insight on operational type situations.
Prior to the president and CEO position, McClarty worked in numerous capacities such as senior project manager for DeKalb County government and economic development director for the city of Roswell, Ga. As senior project manager for Dekalb, McClarty was responsible for the management of the county's redevelopment efforts and various development projects across retail, commercial and industrial sectors.  As the city of Roswell's Economic Development Director, McClarty served as the primary point of contact for new businesses, existing development and chiefly responsible for implementing the city's redevelopment initiatives.
McClarty earned a bachelor of arts in political science from Furman University and a master's degree in city and regional planning with emphasis in economic development from Clemson University. McClarty is a certified economic development finance professional through the National Development Council. This training is essential for the successful practice of economic development, business credit and real estate finance analysis techniques, loan packaging procedures, negotiating and problem solving skills and deal structuring techniques.  McClarty also completed the U.S. Chamber of Commerce's Institute for Organizational Management. It is known as the standard for professional development and fundamental training in the association, chamber and nonprofit industries.
While there is no one-career-path-fits-all, McClarty says that the "chamber executives come from a wide variety of disciplines such as business, government and non-profit arena; and in this field, they touch a variety sectors."  He says that he always liked the development process, so this was a goal of his that began in graduate school.  For students who aspire to pursue a career in business or become a president and CEO of a chamber of commerce, McClarty suggests they have a genuine interest in business operations and policy.  From there, he advises them to see the picture of how things fit together.  The chamber industry is the major 'dot connector' as we touch and influence education, business, government relations, and politics, says McClarty.
Students can pursue jobs that match their interests if they learn of the opportunities at an early age. The Men of Honor movie, inspired by a true story of Master Chief Petty Officer Carl Brashear, the first African-American master diver in the U.S. Navy, is one example. Brashear did not learn of the field until entering the navy.  Afterwards, he was determined to become a navy diver utilizing his avocation as a swimmer. Therefore, we thank the CEO of the Dekalb Chamber of Commerce, Leonardo McClarty for sharing his credentials so others can learn about career paths in the chamber of commerce industry.
Dr. Ronald Holmes is the author of the book, Education Questions to be Answered.  He is the President of The Holmes Education Post, an education focused internet newspaper. Holmes is the National Superintendent of Education for the National Save the Family Now Movement, Inc., a former teacher, school administrator, and district superintendent and can be reached at the following website address: [email protected]