What career path can lead to principal of a Catholic School?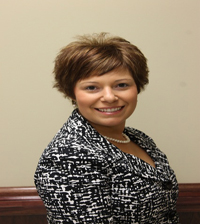 Nicole Alvarez is the principal at St. Andrews the Apostle Roman Catholic School in New Orleans, La. Before becoming a principal, Alvarez worked as a teacher in public and private schools; assistant principal, program supervisor and mentor in non-public schools. Under Alvarez's leadership, St. Andrews was recognized as a 2013 Blue Ribbon Lighthouse School of Excellence. An excerpt of the interview with Alvarez follows:
What career path led to your profession?
My bachelor's degree is in elementary education at Our Lady of Holy Cross College.  After spending time in the classroom, I became an instructional coach for new teachers and a professional development presenter. I enjoyed being a mentor to an educator while still being able to experience the classroom and be around the students. I also started taking on administrative roles by managing other coaches and participating in professional development offered in over 60 non-public schools. Consequently, I became a program supervisor for Title I programs in four parishes in Louisiana while completing my master's degree in Educational Leadership at Our Lady of Holy Cross College.
What educational background and/or professional training are essential for this profession?
My education at Our Lady of Holy Cross College was essential in my development as a leader. The real world experiences I gained through my internships combined with the shared experiences of my professors were invaluable. I am also a Fellow through the School Leadership Center. The cohort of professionals provides me the support and advice as needed.
What influenced you to pursue a career in your profession?
In fifth grade, a wonderful "sister" became principal at my Catholic grammar school. I admired the enthusiasm she exemplified for the school and students. The principal helped make our school a prayerful community, and I knew one day I wanted to make an impact like she did.  The "sisters" who came with her as teachers made learning fun through hands on projects and real-world experiences.
What professional, civic or community organization do you belong?
I am a member of The School Leadership Center, National Catholic Educational Association, and the National Association for the Education of Children. I presented at the 2013 Blueprint for Excellence National Conference on "The Cs of Culture at St. Andrews Catholic School," guiding the participants on a path from where they are to where they want to go as a school through creating a vision, reflective practices, gathering data and celebrating successes.
What advice do you give to students who desire to purse a career as a principal?
Being a principal is fun. Sure, it can get a little crazy with paperwork. But, when you have students calling your name to tell you "good morning" or hugging you to tell you "goodbye," it makes all the stress of the job disappear. Learn as much as you can from experienced educators. Principals are always willing to share their expertise. Shadow as many principals as you can to get a feel for what life is like for them. Elementary, middle and high schools are all very different. My high school principal's friends often come visit my school and from their reactions, the elementary "scene" is not for them. In this setting, you have to like getting hugs after the kids have spaghetti in the cafeteria, for example.
What is your typical work day?
My day starts at 7:30 a.m. with my greeting students and teachers. At 7:50 a.m., the first bell rings and I go to the gym to circulate amongst the teachers and students before morning assembly. At 8:00 a.m., we gather as a community for morning prayer, and I continue to remain in the gym until 8:15 a.m. to further greet students as they go to class. As a practice, I normally meet with my curriculum coordinator and dean before returning to the office. I spend my day in classrooms doing observations, walking to the cafeteria and playground, working on the budget, planning events and meeting with various groups or individuals such as teachers and staff. My door is always open, and you will frequently find students in the office during lunch or recess so they can talk to me. My day ends anywhere between 4:30 and 5:30 pm. although there are meetings I often attend at night.
 Dr. Ronald Holmes is the author of four books, "Education Questions to be Answered,"  "Current Issues and Answers in Education,"  "How to Eradicate Hazing and "Professional Career Paths." He is publisher of "The Holmes Education Post," an education focused Internet newspaper.  Holmes is a former teacher, school administrator and district superintendent. He can be reached at [email protected].