What is a best practice for personalizing learning in the classroom?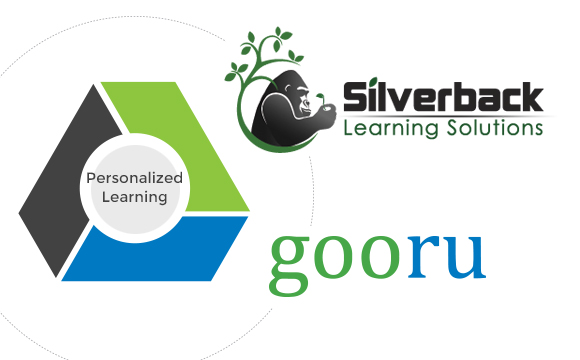 What is a best practice for personalizing learning in the classroom? To answer this question and expose K-12 schools to innovative, web-based educational resources, I interviewed Rudi Lewis, COO of Silverback Learning Solutions and Prasad Ram, CEO of Gooru who formed a partnership to personalize learning in the classroom. Below is an excerpt of the interview with the Lewis and Ram:
Describe the partnership between Silverback Learning and Gooru?
Teachers are focused on maximizing student education in the classroom, and therefore are commonly time-challenged to search for and select the best matched educational materials for each and every student based on their individually assessed needs. The combination of Silverback Learning and Gooru immediately simplifies this entire process and seamlessly aligns student learning materials with Common Core State Standards to best meet their educational needs, and build upon the learning that happens in the classroom. Teachers can more efficiently and confidently supplement their own strategies with the best available free content on the web, ranked by learning outcomes and usage by their peers around the world. This technology empowers parents to work more actively in partnership with teachers to take a more productive role in helping their child study at home.
What led to the partnership agreement?
We signed the partnership in October 2012.  Silverback's Mileposts allows teachers to pinpoint the exact educational areas where students individually struggle-and now, thanks to integration of Gooru's content, teachers can fill these gaps with personalized, web-based educational resources that align with Common Core State Standards now required in school districts across 47 states. The Gooru and Silverback partnership creates parent-friendly, personalized learning environments that are ready-made for schools anywhere and of any size. Schools have the ability to access a vast network of community-curated learning resources on Gooru through Silverback's award-winning Mileposts instructional improvement system.  Mileposts' integration of Gooru capabilities allows educators to customize and share their favorite open educational resources according to student needs via individualized learning plans and interventions. From any PC, tablet or smartphone, families can also access safe, high-quality, online resources and match it to their children's needs through a web portal synchronized to their school's Mileposts system.
What are some of the advantages of Mileposts?
Silverback's Mileposts is the first solution of its kind to provide over 18 million free digital resources and over 1 million assessment items indexed to state standards via the Gooru, a free solution for personalized learning.  With Mileposts, teachers can quickly create assignments and interventions, monitor achievement, and gain insights to improve instruction to any group, subgroup, or individual student. This cloud-based, value-conscious platform is quick and easy for teachers, administrators, students and parents to access from any device.
Districts can instantly see data and analytics for state, district, and classroom assessments and track student behaviors in and out of the classroom.  Mileposts provides data to teachers where they need it most– at the point of instruction, where it can be used to guide personalized learning on a daily basis.  We save valuable time for teachers by ingesting state and district assessment data at the district level and automatically correlating that data to individual student and classroom views.  Individual student assessment data plus full behavioral incident management fit smartly into Student eFiles, where they can be used to directly inform student learning plans and interventions.
Every student is unique. So is the learning path that defines their progress. With Mileposts, you can quickly tailor plans that meet the needs of individuals, written in terms that encourage students to take ownership of their own learning.
What school districts and states are using Mileposts?
There are 18 states and 80 school districts using Mileposts. This includes 11,000 educators and 130,000 students. Also, there are 500,000 teachers over 140 countries using Gooru's educational resources.
What has been the success of school districts using Mileposts?
Idaho's Bonneville District deployed Mileposts in all of their schools and the district saved the cost of needing to hire a full-time, dedicated assessment administrator for the district.  The software eposts was able to compile the results and share with teachers more rapidly, meaning they could convert what used to be data gathering time into focused instructional time.  For school year 2012-2013, the Bonneville School District 93 came out on top of the other eastern Idaho school districts with the most schools to receive 4 and 5 stars in the state's 5-Star Rating accountability system. "With Mileposts, teachers can easily look at every student in their class and understand their strengths and weaknesses to provide data-informed interventions in the classroom at the point of instruction," says Scott Woolstenhulme, Director of School Improvement and Technology for the Bonneville Joint.
What are some of Gooru's learning resources used frequently by school districts?
With 18m resources indexed varying from videos and interactive games, digital texts, and quiz questions, from well-known sources like Khan Academy, CK-12 and Smithsonian, teachers in the Gooru community have curated over 50,000 collections.  There is something for everyone at every grade level in all four core subjects (Math, ELA, Science, and Social Sciences.)  The other beautiful thing is that Gooru can tabulate exactly what resources are being used the most in each district.
What is the new parent portal solution?
Silverback's Mileposts Parent Portal is a comprehensive parent and student resource, which will be included in every subscription of Mileposts. The new solution provides parents with clear insights to their children's available education assessment data and combines the expertise of local classroom teachers with learning goals of students to communicate prescribed interventions and helpful educational resources, to parents and students through one simple, secure interface that works on a variety of mobile devices.
How can this portal benefit parents and other stakeholders of the school?
Think about it this way…  "Instead of gradebooks, attendance and permission slips, parents are invited into the instructional team, where they can check on trends of performance, plan goals, teaching strategies, parent responsibilities, student expectations and resources provided to support the student's in class learning which also help the parent understand the student's challenges and expectations," Lewis continued.
What infrastructure should school districts have intact to install Silverback Learning?
As a 100 percent Software-as-a-Service, it means that all functionality is provided to client browsers securely over a school's existing network infrastructure.  We also can leverage the devices parents and students already have (PC's, laptops, iPads, Android devices).
For additional information about Silverback Learning Solutions, please go to: http://www.silverbacklearning.com/
Dr. Ronald Holmes is the author of five books, "Education Questions to be Answered,"  "Current Issues and Answers in Education,"  "How to Eradicate Hazing," "Professional Career Paths" and "Your Answers to Education Questions." He is publisher of "The Holmes Education Post," an education focused Internet newspaper.  Holmes is a former teacher, school administrator and district superintendent. He can be reached at [email protected].