What is a framework for young adults success?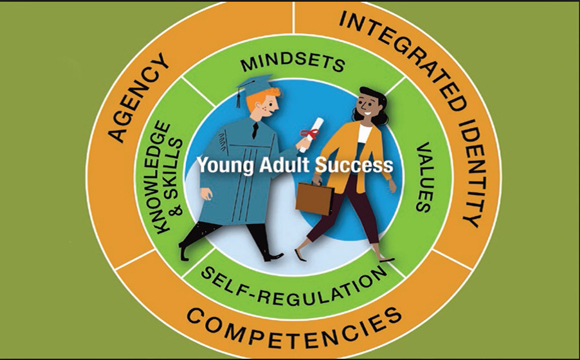 Many young adults are suspended and expelled from school and, subsequently, leave school without a high school diploma. At the 2016 National Conference on Education in Phoenix, Arizona, panel member Superintendent Robert Runcie of Broward County Public Schools in Fort Lauderdale, Fla. introduced a new framework by the University of City Consortium on Chicago School Research to address youth development.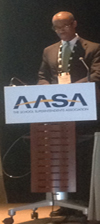 This framework is a product of The Wallace Foundation that draws on decades of ideas, research, theory and insight from educators to gain a holistic assessment of youth's development from the early stages of childhood to young adulthood. As explained in detail below, the framework encompasses four foundational components such as self-regulation, knowledge, mindsets and values. It also includes three key factors such as agency, competencies and integrated identity that are components for preparing children to reach their fullest potential regardless of their social or economic background.
Four Foundational Components:
Self-regulation – is the awareness of oneself and one's surroundings, and the ability to manage one's attention, emotions, and behaviors in goal-directed ways.
Knowledge – is the sets of facts, information or understanding about oneself, others and the world.
Mindsets – are beliefs and attitudes about oneself, the external world, and the interaction between the two.
Values – are enduring, often culturally defined beliefs about what is good or bad, and what is important in life.
Three Key Factors:
Agency – is the ability to make choices about and take an active role in one's life path, rather than solely being the product of one's circumstances.
Competencies – are the abilities that enable people to effectively perform roles, complete tasks or achieve specific objectives.
Integrated identity – is a sense of internal consistency of who one is across multiple social identities such as race, ethnicity, profession, culture, gender and religion.
Before using this framework at Broward County Public Schools, Runcie commented on how the school district was losing a great number of students to suspension and the criminal justice system. He said, the suspension and arrests were at an alarming number, which were counterproductive to the district's educational purpose and detrimental to the students' home and community.
With the implementation of this framework and buy-in from school constituents, Broward County Public Schools' significantly reduced its student discipline and arrest rate by 65 percent. "We had to change the mindsets and perceptions about children," said Runcie.
Dr. Ronald Holmes is the author of 12 books: "Jacob's Dream! A Lesson on Numbers and Birds," "Jacob's Dream! A Lesson on Alphabets and Continents," "How to Eradicate Bullying," "Education Questions to be Answered," "Current Issues and Answers in Education," "How to Eradicate Hazing," "Professional Career Paths," "Your Answers to Education Questions," "How to revitalize the National Baptist Convention, USA, Inc." "Completing the Dissertation: Tips, techniques and real-life experiences from Ph.D. graduates." "Jacob's Dream, A Story of Careers for Children" and Jacob's Dream, A Story of Animals in Africa. He is publisher of "The Holmes Education Post," an education focused Internet newspaper.  Holmes is a former teacher, school administrator and district superintendent. He can be reached at [email protected]