What messages did Oprah Winfrey give to Harvard's class of 2013?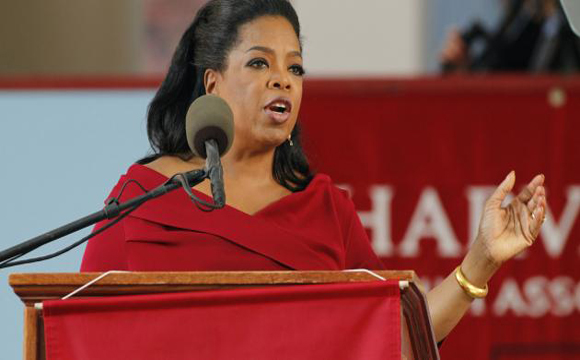 People like to get feedback in various facets of life. When students complete an assignment, they expect feedback from the teacher. When employees finish a task, they expect feedback from the boss. When politicians perform in a race, they expect feedback from the media. They simply want to know if their performance was okay?
Oprah Winfrey was faced with a similar circumstance when president Drew Faust of Harvard asked her to give the 2013 commencement address. Winfrey recalled that period of time as being the lowest moment in her career. She was stressed, frustrated and embarrassed by the media criticizing her new venture as a failure. Realizing the importance of the commencement, however, Winfrey used this moment as an opportunity to overcome her duress. Just like everyone else, Winfrey expected feedback from her commencement address and, actually, raised the question at the closing of her speech, "Is that Okay?" So, the critical question to be asked is: What messages did Oprah Winfrey give to Harvard's class of 2013?
In the Spring of 2011, Winfrey gave her long good bye to a record audience of more than 20,000 fans at the Chicago United Center in addition to her television audience. In an expression of appreciation, entertainers, celebrities and politicians showered Winfrey with a conglomerate of surprises all signifying well-done Winfrey, "It's okay." Despite Winfrey's past accomplishments, she expressed to Harvard's class of 2013 that, "It does not matter how far you might rise; at some point, you are bound to stumble." While Winfrey was at a challenging period in her life, she reminded the class of some old spiritual songs that lifted her and turned her situation around by the time of commencement. They included "By and By When the Morning Comes; Trouble Don't Last Always and This Too Shall Pass."
As part of her affirmation, Winfrey articulated to the class that, "There is no such thing as failure when you are down in the hole. The key to life is to develop an internal moral emotional GPS that can tell you which way to go." In doing this, Winfrey emphasized to the graduating class to "build a resume that does not tell a story of what you want to be but who you want to be. When you stumble and find yourself stuck in a hole, that is the story that will get you out" of the hole.
For Winfrey, the story came in 1994 when she interviewed a little girl who started collecting money for people in need. This initiative motivated Winfrey to create her Angel Network. The network encouraged her viewers to raise three million dollars to support other people in need by sending disadvantaged students to college, building schools and developing homes for families devastated by hurricanes. Winfrey told Harvard's class that the network helped her to focus on her internal GPS being of service to the underprivileged.
Additionally, Winfrey drilled home her point about humanity. She expressed to the graduating class that although Harvard is the place where Facebook was born, her hope is that graduates try to go out and have more face-to-face conversations with people who they disagree with in life. Graduates should have the courage to look people in their eyes and listen to their viewpoints. Graduates should have "one goal and that is to fulfill the highest and most truthful expression of yourself as a human being. You want to max out your humanity by using your energy to lift yourself up and your family. The world needs people who have come alive," said Winfrey.
In closing, Winfrey expressed to Harvard's class of 2013 that, "I know you may stumble and fall… You will for sure have questions and doubts about your past, but if you are willing to listen and be guided by that small voice or GPS within yourself to find out what makes you come alive, you will be happy, successful and make a difference in the world. Is that Okay?"
Dr. Ronald Holmes is the author of three books, "Education Questions to be Answered," "Current Issues and Answers in Education" and "How to Eradicate Hazing." He is publisher of "The Holmes Education Post," an education focused Internet newspaper. Holmes is the national superintendent of education for the National Save the Family Now Movement, Inc., a former teacher, school administrator and district superintendent. He can be reached at [email protected]