Who are the key note speakers at the 2015 Appreciative Education Conference?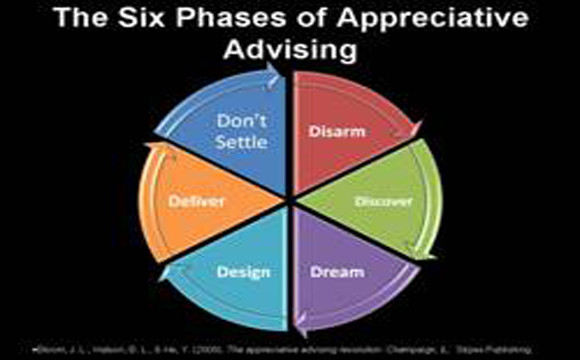 Building a strong relationship with students to help them optimize their educational experiences and achieve their dreams, goals and potentials is the aim of Appreciative Advising.
Appreciative Education is a powerful theory-to-practice framework for delivering high-quality education at both the organizational and individual levels. A central building block of Appreciative Education is the belief that we need to build bridges between PreK-12 and Higher Education educators and administrators.
Appreciative Education focuses on the strengths and potentials of organizations and individuals to accomplish co-created goals. After all, we all share a common love for educating others, and it is time to start conversations that will enable us to learn from each other. Appreciative Education emerged from the success of the six phases of Appreciative Advising (www.appreciativeadvising.net), a theory-to-practice framework for building relationships focused on helping students optimize their educational experiences.
The 2015 Appreciative Education Conference will be held January 4-7 at the Sheraton Myrtle Beach Convention Center Hotel.  The key note speakers for the conference are: Dr. Jennifer L. Bloom, Dr. Zack Kelehear and Mr. Tyree Vance. The following provides background information on the speakers:
Dr. Jennifer L. Bloom is a Clinical Professor and Director of the Master's degree program in the Higher Education  and Student Affairs Program housed in the College of Education at the University of South Carolina. Bloom also directs USC's Office of Appreciative Education. Prior to her appointment at USC in 2007, she served as the Associate Dean for Student Affairs and the Medical Scholars Program at the University of Illinois College of Medicine at Urbana-Champaign.
Bloom has co-authored four books, four book chapters and sixteen articles. The first book, Career Aspirations and Expeditions: Advancing Your Career in Higher Education Administration, was released in 2003. The second book, The Appreciative Advising Revolution, was released in 2008. In 2011, the third book, Appreciative College Instruction: Becoming a Positive for Change in Student Success Courses, was published. Her latest book, Increasing Persistence: Research-based Strategies for College Student Success, was released in July 2012.
Dr. Zach Kelehear has over thirty years in public education as a teacher, administrator and college professor. His writings have provided innovative approaches to leadership that are grounded in arts-based research and focused on the practitioners who make a difference in the lives of students every day. His primary areas of writing address issues in mentoring, supervision and instructional leadership and arts-based school leadership.
Among his books on leadership are The Art of Leadership: A Choreography of Human Understanding and Instructional leadership as Art: Connecting ISLLC and Aesthetic Inspiration both published by Rowman and Littlefield. He continues to research possible applications of arts-based research and instructional supervision. He has been President of the Council of Professors of Instructional Supervision (COPIS), Chair of both the Arts and Learning SIG and Supervision and Instructional Leadership SIGs at AERA. Along with his peer reviewed work, Kelehear has published in the Journal of Staff Development, American School Board Journal, The School Administrator, Principal Leadership, Principal and others.
Mr. Tyree Vance, a graduate of California State University, San Bernardino and California State University, Fullerton, holds a dual B.A. in Psychology and Human Development, and an M.A. in Higher Education. From 2010 to 2014, Vance served as an Academic Advisor for Student Support Services at Cal State, Dominguez Hills, and currently serves as an advisor for the university's Male Success Alliance mentoring initiative.
In 2012, he became a member of the Appreciative Advising Faculty and a Certified Appreciative Adviser where he facilitates small group sessions at the annual Appreciative Advising Institute. Selected to be one of the first Associate Consultants for Student African American Brotherhood (S.A.A.B.), Vance travels to colleges and universities around the U.S. to speak on behalf of the national organization.
In addition to advising, Vance has co-conducted research focusing on the collegiate success of African American males, and presented the findings of his research at several regional and national conferences, including Harvard's Alumni of Color Conference. He is also the President of Special Angels Group Facilities, a shelter services business working with developmentally challenged adults as well as Transitional Aged Youth in San Bernardino County.
Please continue to follow us for additional information about the 2015 Appreciative Education Conference as we provide coverage from the Sheraton Myrtle Beach Convention Center Hotel.
Dr. Ronald Holmes is the author of eight books, "Education Questions to be Answered," "Current Issues and Answers in Education," "How to Eradicate Hazing," "Professional Career Paths" "Your Answers to Education Questions," "How to revitalize the National Baptist Convention, USA, Inc." "Completing the Dissertation: Tips, techniques and real-life experiences from Ph.D. graduates" and "Jacob's Dream." He is publisher of "The Holmes Education Post," an education focused Internet newspaper.  Holmes is a former teacher, school administrator and district superintendent. He can be reached at [email protected]