Who can change a child's destiny?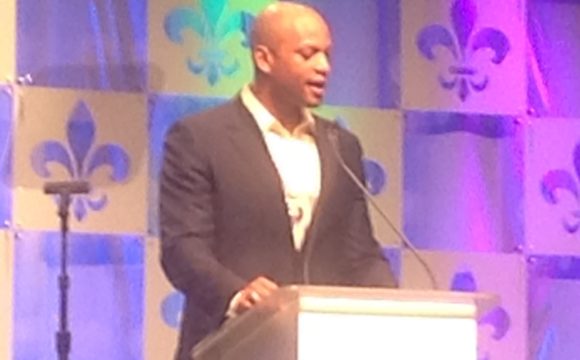 Being raised in the U.S. is not always a happy beginning or ending for many children. Some children are faced with life's challenges such as starvation, poverty and inequality. Some children are faced with a dead end path with no possibilities or vision for a quality life.
Realizing the state of our society, the critical question to be asked is: Who can change a child's destiny? To address this question, the following provides an excerpt of comments from keynote speaker, West Moore at the 97th Annual Convention of the American Association of Community College in New Orleans. Moore is an Army combat veteran, youth advocate and author. He graduated Phi Theta Kappa as a commissioned officer from Valley Forge Military College and Phi Beta Kappa from Johns Hopkins University. He also completed a Master of Letters (MLitt) from Oxford University as a Rhodes Scholar.
Moore's childhood's story resembles the challenges that many African American boys experience on a daily basis. Being raised in the community of Baltimore, he along with another individual with the same name (Wes Moore), was on a dead end path for a quality life. They were both fatherless, had problems in the classroom and trouble with the police. They associated with the same people in the community and mingled in the same surroundings. While Moore overcame his difficult childhood experience through the support of the community college and people who fought for him and helped him understand his destiny in life, the other Moore did not. He became another statistic to the prison system due to armed robbery and murder.
As such, Moore emphasized to the presidents and other leaders of community colleges that you make a difference in a child's life. He said, "You work with individuals from different backgrounds who ironically made bad decisions in the early stages of their lives or who never had a chance to fulfill the American dream. You have to continue to fight for "the other" individuals. Keep them in your conversation and find ways to make them successful. You must maintain the role of the community college to address the critical needs of society. Help those who may not speak, look or act like you. Don't be afraid to get involved with "the other" individuals even if it means affecting your status, brand or credentials. Make your environment safe, welcome and accessible for everyone as an avenue to change a person's destiny," said Moore.
Ronald Holmes earned a PhD in Educational Leadership, a MED in Educational Administration and Supervision and a BS in Business Education from Florida A&M University. He also earned a MED in Business Education from Bowling Green State University. He is a former teacher, school administrator, and district superintendent.