Who is the ACE Adult Learner of the Year?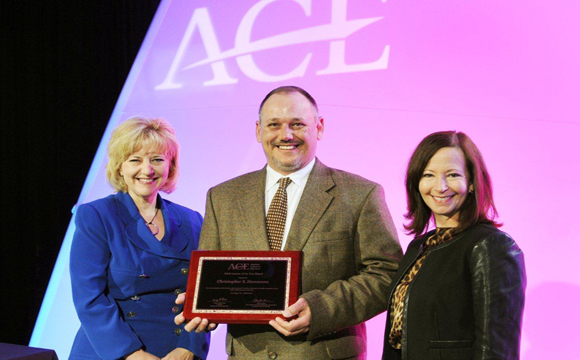 The Holmes Education Post recognizes schools, colleges and universities and their business partners that are demonstrating best practices in education. These practices include civic or service learning activities, special programs, events and recognition of stakeholders in various institutions across the nation.
At the plenary session of the American Council on Education's (ACE) 96th Annual Meeting, Christopher S. Hammann was announced the 2013 ACE Adult Learner of the Year. For this recognition, ACE honors the outstanding personal, professional, academic and community endeavors of an adult learner who has benefited in her or his professional or academic career from ACE's credit recommendations for military and corporate training. The award is presented annually to an outstanding student whose accomplishments might motivate other individuals to pursue their education and degree attainment.
As a father of three children, Hammann is a junior at Northern Kentucky University (NKU) with a major in social work. Hammann is president of the Norse Veterans Student Organization, and he will be the first in his extended family to fulfill all the requirements for college when he graduates in 2015. Hammann previously owned a property renovation business and a short-distance trucking company. As a result of a car accident to his son and severe illness of his daughter, he took a heavy equipment operator position at NKU to be close to home and his family.
Now at the age of 43, Hammann credits his transformation to the Marine Corps which he enlisted while in his senior year of high school. Hammann was an opportunist while in the service. He gained extensive training while serving two military conflicts and left the service with effective leadership skills, a strong work ethic and a strong commitment to serve his community.
According to Hammann, "I don't know if I am a role model for other adults, but I hope I am demonstrating that it is never too late to go after your dreams. Education has helped me see myself and the world around me with different eyes. Finishing my degree will allow me to help others realize their potential, and I am determine to cross the stage to accept my diploma."
We congratulate Christopher Hammann for his outstanding accomplishments.
 Dr. Ronald Holmes is the author of five books, "Education Questions to be Answered,"  "Current Issues and Answers in Education,"  "How to Eradicate Hazing," "Professional Career Paths" and "Your Answers to Education Questions." He is publisher of "The Holmes Education Post," an education focused Internet newspaper.  Holmes is a former teacher, school administrator and district superintendent. He can be reached at [email protected].
Photo by Tim Trumble for the American Council on Education.