Who is the 2013 National Teacher of the Year?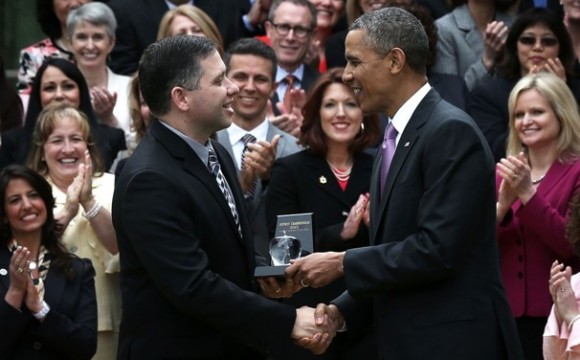 The National Teacher of the Year (NTOY) program is the oldest and most prestigious national honors program. It focuses public attention on excellence in teaching and is operated by the Council of Chief State School Officers. Through a national selection committee representing 15 national education organizations, each state teacher of the year submits a written application and letters of endorsement and completes eight essays on topics ranging from personal teaching philosophy to the issues confronting education to be considered for the title.
The national selection committee meets in early December to choose four finalists from the nominations received. In February, the finalists participate in interviews in Washington, D.C. Now that the selection has been made, the critical questions to be asked are: Who is the 2013 National Teacher of the Year? What is Jeff Charbonneau's philosophy for teaching? What does President Barrack Obama have to say about the NTOY?
On April 23, President Barrack Obama honored Jeff Charbonneau as the 2013 National Teacher of the Year at the White House. Charbonneau teaches 9th-12th grade physics, chemistry and engineering at Zillah High School in Zillah, Washington where he has worked his entire teaching career of 12 years. He is a National Board Certified teacher with a Bachelor of Science degree in biology and a master's of Education from Central Washington University.
To prepare students for a successful academic year, Charbonneau says he greets his students in class every day by saying, "Welcome back to another day in paradise." Charbonneau says that "paradise must be built, maintained and improved each day. It removes the words can't, too hard and impossible from our vocabulary. This concept has become my philosophy of teaching as I foster self-confidence, academic success, collaboration and dedication within my classroom, school and greater community."
With President Obama's mother being a former teacher and sister currently working as a teacher, he expressed his appreciation for the influence teachers have on the lives of children. In recognizing Charbonneau, Obama noted that "twelve years ago when Jeff decided to return to his hometown to teach, Zillah High School had no engineering curriculum. The science curriculum was lagging. Kids had to go off campus for technology classes, and the computer resources were, pretty poor. But Jeff was determined to turn that around. He wanted to convince kids that something like quantum mechanics wasn't something to run away from but something to dive into." Jeff felt that it was his job to convince kids that they are smart enough to do anything. As a result of Jeff's leadership at Zillah High School, the science enrollment has increased significantly, students are graduating with college level science credits and the school expects to employ more teachers to meet the demand for additional students, said Obama.
Obama also said that what Charbonneau is doing at Zillah High School is the reason he proposes to prepare an additional 100,000 science and mathematics teachers across the U.S. over the next 10 years. Obama sees Charbonneau or a similar exemplary teacher of his type serving as part of a Master Teachers' Corps: A network of exemplary teachers who function as mentors and leaders for their peers in science related subjects. It is not just about being an effective teacher that distinguished Charbonneau. Reflecting on Charbonneau's credentials, Obama highlighted that he reinvigorated the school's yearbook, started an outdoor club, brought passion to the drama program and helped other schools across the state enter their students in the robotics competitions.
For additional information about Charbonneau, please go to the National Teacher of the Year Program's website: http://www.ccsso.org/ntoy.html. We sincerely congratulate Jeff Charbonneau for being named National Teacher of the Year. Over the next year, Charbonneau will be released from classroom responsibilities to travel nationally and internationally as an advocate and spokesperson for the teaching profession. We wish him the best.
Dr. Ronald Holmes is the author of three books, "Education Questions to be Answered," "Current Issues and Answers in Education" and "How to Eradicate Hazing." He is publisher of "The Holmes Education Post," an education focused Internet newspaper. Holmes is the national superintendent of education for the National Save the Family Now Movement, Inc., a former teacher, school administrator and district superintendent. He can be reached at [email protected]