Why are some school districts installing security cameras in their schools?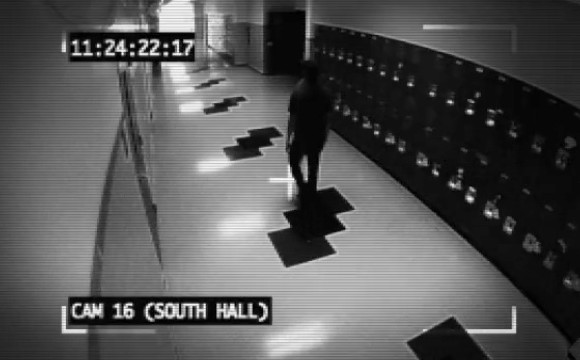 Twenty-two percent of all traffic accidents in the U.S. are caused by drivers who run red lights and 39 percent of these accidents result in injuries according to the Insurance Institute for Highway Safety. Because of a shortage of human resources to monitor motorists coupled with the rise in traffic violations, accidents, fatalities, property damages and insurance hikes, cities nationwide are installing red-light cameras. Security cameras allow authorities to prosecute traffic violators by detecting speeding as well as minimizing disputes regarding the violation. Motorists receive a ticket in the mail along with a photograph of the violation.
Just as security cameras are being used to monitor motorists, school systems are installing security cameras in their schools. In a 2009-2010 School Survey on Crime and Safety of 3,500 public elementary and secondary schools conducted by the National Center for Education Statistics, 51 percent of primary schools, 73 percent of middle schools and 84 percent of high schools are using security cameras to monitor their schools. With school safety being the number one priority for schools, the critical questions to be asked are: Why are school districts installing security cameras in their schools? What are the pros and cons of installing security cameras in the classroom?
Before academic learning can take place, school leaders have an overwhelming challenge to keep their schools safe to the highest level possible. This includes before, during and after school hours. In addition to helping provide a safe environment, proponents of using security cameras in the classroom believe it will improve instructional processes and accountability and eliminate the potential of inappropriate behavior by students as well as teachers. Some schools are using the cameras to help them assess the effectiveness of the classroom by creating a record for principals and teachers, and thus, minimizing any dispute regarding the evaluation process.
Proponents also feel that the recordings can show clear evidence for professional development in the areas of need. Critics, on the other hand, believe that classroom security cameras will create an atmosphere for catching a teacher doing something wrong whether intentional or unintentional. In addition, they believe that having cameras will add stress and take away the personal interaction of the principal, teacher and student in the evaluation process. Finally, there are concerns that cameras will violate student and teacher privacy.
As an example of security camera use, in 2003 a Biloxi Mississippi Public School District installed cameras in all of its schools' hallways and classrooms primarily to improve safety. These schools reported lower incidents of violence and less students dozing off in class leading to higher academic performance. Parents in Los Angeles School District (2012) vehemently requested security cameras in classrooms and other areas of the school when they learned that two teachers were arrested for allegedly allowing lewd acts by students. The entire staff of the Los Angeles elementary school was reassigned to allow authorities to fully address the problem and avoid any additional surprises.
By the end of this year, all elementary, middle grade schools and one high school in the Portland Public School system will receive a security camera to monitor main entrances. According to Superintendent Carol Smith, "Using new video monitors, school staff will be able to see who is entering and exiting main doors. Electronic card readers will allow staff to enter primary side doors. Other school doors will be locked at all times." Smith expects to install cameras and key card systems in the remaining 57 schools throughout the school year.
Considering the violence we are experiencing in today's schools, it is apparent that security camera in schools can help improve safety in the educational environment. As school leaders ponder the merits, costs and benefits of camera, they must be mindful of students and teachers' privacy. While security cameras can help improve the level of safety in schools, students, teachers, parents and other stakeholders must be vigilant about reporting inappropriate incidents of wrongdoing to the authorities.
Dr. Ronald Holmes is the author of four books, "Education Questions to be Answered," "Current Issues and Answers in Education," "How to Eradicate Hazing and "Professional Career Paths." He is publisher of "The Holmes Education Post," an education focused Internet newspaper. Holmes is a former teacher, school administrator and district superintendent. He can be reached at [email protected]