Career Path to President/CEO of Leading To Change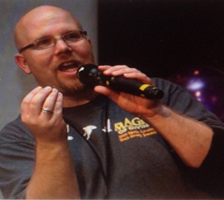 Eric Rowles is a nationally recognized speaker, trainer and consultant who has worked with more than 150,000 people such as teenagers, adults, professionals, policy makers and administrators throughout the U.S. Recently, Rowles gave a powerful, energetic, educational and motivational presentation at the 2015 Appreciative Education Conference at the Sheraton Myrtle Beach Convention Center Hotel. This special feature provides an excerpt of Rowles' career path to president/CEO of Leading To Change.
What career path led to your profession?
I have 30 plus years working in different fields. Some of my experiences include working as director of Leadership Development; senior director of Training Technical Assistance, Youth Leadership Institute; director of the International Youth Summer Abroad Program; coordinator of Substance Abuse Prevention program; and faculty member at the University of North Carolina and Rutgers University. These experiences coupled with my educational background led to my starting Lead To Change (LTC) in Charlotte, NC.
What educational background and/or professional training are essential for this profession?
I have a double Bachelors of Arts in Ethnic and Cultural Studies and Sociology from the University of California (Riverside). This was the beginning of my ability to connect and understand the world around me. I also have a Masters of Science in Educational Leadership and Design from Central Connecticut State University. This enabled me to learn more about other people and develop the experience into a teachable curriculum.
What influenced you to pursue a career in your profession?
In starting Leading To Change, we wanted to do three things: The first was to "Pay It Forward" for our community heroes, great teachers and outstanding educators because many of them have not received the recognition for their commitment and dedicated service to the community. Leading To Change's platform is to pay back the debt to those individuals by celebrating other great individuals throughout the country.  Second, we sat through too many training programs that were painful and boring, so we wanted to reverse the script with training that is energetic, creative and transformative. Third, we saw a niche of what happens when you incorporate innovation, humor, music and entertainment in the training, so we decided to establish LTC in 2004.
What professional, civic or community organization do you belong?
In the Carolinas, we are connected to a number of service-based agencies and organizations such as the North Carolina Association of Fundraising Professionals, Children Trust of South Carolina, South Carolina Campaign Prevention on Teen Pregnancy and South Carolina Non-Profit Professionals. We are also affiliated with Workforce Development Training Centers, Association of Colleges International, 21st Century Learning Centers, professional associations on Student Affairs in Higher Education, professional association of campus activities and hundreds of universities and school districts throughout the Southeast and country.
What advice do you give to students who desire to pursue a professional career?
While teaching at the university level, I often told students to find something of their own that can't be taught for a possible niche. You can teach someone accounting and public speaking skills but you can't teach them passion. So, find that passion that is natural to you. Maybe you have a passion for solving problems, communicating with people or working with technology. Whatever that passion is, start with it and try to build a product around that passion. If you try to first build your passion around the product, it is going to feel awkward.    Rather, be authentic.  Be fearless.   And above all, be generous with your gifts and talents.  The world has been waiting for someone just like you.
What is the mission of Lead To Change?
We want to provide a catalytic and transformative training experience to a wide range of people at retreats and conferences for public schools, colleges, universities, agencies and Corporate America. We want to provide our clients an unprecedented amount of energy, laughter, experience, tools, skills and insight that they can apply to their day-to-day work or activity.
Some prior examples of our training include: National Association Workforce Development Professionals Conference, National Service Learning Conference, National Habitat For Humanity, National Independent Living Association Conference, National Youth At Risk Conference, National Middle Level Educators Conference, Princeton University, University of Alabama, University of Georgia, University of Texas, University of California, University of Louisiana, Appalachian State University and Ohio State University.
For additional information about LTC, visit: http://www.leadingtochange.com
Dr. Ronald Holmes is the author of eight books, "Education Questions to be Answered," "Current Issues and Answers in Education," "How to Eradicate Hazing," "Professional Career Paths" "Your Answers to Education Questions," "How to revitalize the National Baptist Convention, USA, Inc." "Completing the Dissertation: Tips, techniques and real-life experiences from Ph.D. graduates" and "Jacob's Dream, A Story of Careers for Children." He is publisher of "The Holmes Education Post," an education focused Internet newspaper.  Holmes is a former teacher, school administrator and district superintendent. He can be reached at [email protected]