How can parents gain training on anti-hazing preventions?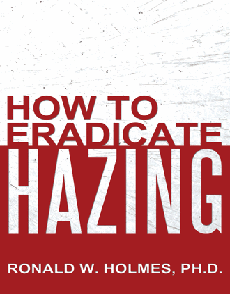 Hazing continues to be an issue on school and college campuses. If it is to be eradicated, all constituents need to be involved and understand their role. For this feature, the critical questions to be asked are: How can parents gain training on anti-hazing preventions? How can this training be provided to parents?

In December 2014, The Holmes Education Post and Einestine Technology Services developed an Online National Anti-Hazing Curriculum for students and faculty on "How to Eradicate Hazing" from the educational institution's culture. To further educate all stakeholders on the seriousness and dangers of hazing, we have now developed an online curriculum for parents. Excluding an assessment questionnaire, the objectives of this online program are to (1) educate parents on the policies, procedures and laws on anti-hazing preventions; (2) provide parents an understanding of the negative effects of hazing and (3) provide parents information on alternative methods schools can use to implement acceptable initiation rites in the educational environment.
Further, the online curriculum includes a 45 minute program (with video animation) for parents comprising of eight modules. The program can be made available in multiple platforms (OSX, Android, Windows) and is device agnostic. Using evidence based practices on hazing, the book entitled, "How to Eradicate Hazing," serves as the reference guide for the online curriculum. Other features of the curriculum include: clear and colorful presentation; user friendly and easy to read, re-read and listen to information during the training. This curriculum also provides a glossary for parents to fully understanding the concepts about hazing.
If you are interested in incorporating this anti-hazing program for parents into your curriculum, please contact me.
Dr. Ronald Holmes is the author of eight books, "Education Questions to be Answered," "Current Issues and Answers in Education," "How to Eradicate Hazing," "Professional Career Paths" "Your Answers to Education Questions," "How to revitalize the National Baptist Convention, USA, Inc." "Completing the Dissertation: Tips, techniques and real-life experiences from Ph.D. graduates" and "Jacob's Dream, A Story of Careers for Children." He is publisher of "The Holmes Education Post," an education focused Internet newspaper.  Holmes is a former teacher, school administrator and district superintendent. He can be reached at [email protected]