How can we stop bullying in schools?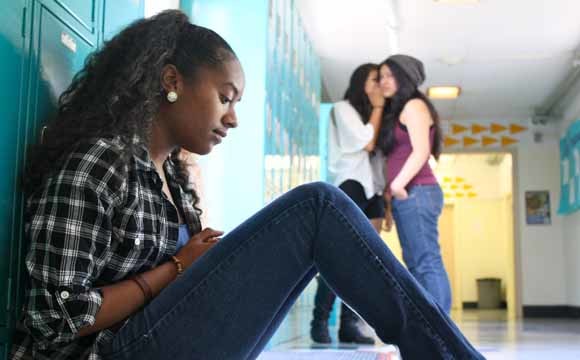 Bullying is a major problem for students in America's schools. It causes an alarming number of students to be absent from school and, subsequently, dropout of school. When we think of the character Charlie Brown, we probably think of the countless times he was bullied. Brown was the character who never received Valentine cards but received rocks when he went trick or treating. He was called inflammatory names such as blockhead. He was also the character who when he got ready to kick a field goal, his own teammate would remove the ball from the surface before he kicked it, causing him to fall and get blamed for costing the team to lose the game.
Realizing Brown's character was made for the television enjoyment, it resembles the serious problems bullied students face. Bullied students typically do not know how to resolve the painstaking problem associated with bullying which can impact their self-esteem, health and safety. Thus, the critical question to be asked is: How can we stop bullying in schools?
Bullying involves inflicting psychological and physical duress on one or more students. It can include teasing, intimidating, hitting, stalking because of the differences in sex, race or disability. It is a national epidemic causing student to face a high level of anxiety and depression when they are bullied before, during or after school. Because of the internet and cellphones, cyber bullying has become the new age type of bullying causing additional challenges for schools. In a national iSAFE study of fourth to eight graders, 42 percent of bullying victims suffered the impact of cyber bullying through electronic devices.
Because of the seriousness and dangers of bullying, The Holmes Education Post will release its newest book in August on how we can stop bullying in schools. The book will expose our students, parents and educators to anti-bullying prevention strategies to help them cope and prevent this bullying whether it occurs in the classroom, on the streets or through electronic means. If you would like to pre-order the book, contact The Holmes Education Post at: [email protected]
Dr. Ronald Holmes is the author of nine books, "Education Questions to be Answered," "Current Issues and Answers in Education," "How to Eradicate Hazing," "Professional Career Paths," "Your Answers to Education Questions," "How to revitalize the National Baptist Convention, USA, Inc." "Completing the Dissertation: Tips, techniques and real-life experiences from Ph.D. graduates," "Jacob's Dream, A Story of Careers for Children" and Jacob's Dream, A Story of Animals in Africa. He is publisher of "The Holmes Education Post," an education focused Internet newspaper.  Holmes is a former teacher, school administrator and district superintendent. He can be reached at rw[email protected]