La Petite Academy Celebrates Nationwide Teacher of the Year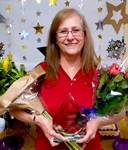 (GLOBE NEWSWIRE) — La Petite Academy is proud to honor Julie Leonard from its Encino Rio location in San Antonio, Texas as this year's recipient of the company's prestigious Teacher of the Year award. Leonard has been selected in recognition of her remarkable work in bringing lessons to life in creative and engaging ways to help prepare children for future academic success. She was chosen from among nearly 17,000 early education teachers nationwide from La Petite Academy and its sister brands in the Learning Care Group portfolio of schools – Childtime, Tutor Time, Montessori Unlimited and The Children's Courtyard.
Leonard, a Lead Pre-School teacher, is being honored for her excellence as an educator and for the inspiration she provides to students and staff alike. "Julie's passion for teaching shines through in everything she does," said Kristine Webb, Southwest Division Vice President for La Petite Academy. "Her imaginative approach to hands-on learning helps students develop a deeper understanding of new concepts. She has a gift for making every child feel special, and is a wonderful role model when it comes to teamwork and kindness. We're honored to have Julie represent us as our Teacher of the Year. "Leonard is also being recognized for exemplifying a commitment to lifelong learning.
La Petite Academy – A Great Place to Start
La Petite Academy provides comprehensive early education and care services for infants through Kindergartners. Unlike traditional daycare, the La Petite Academy education provides a strong curriculum in a safe, stimulating environment to create meaningful learning experiences for children every day.
With La Petite Academy's proprietary School Readiness Pathway, families can choose the educational programs that best meet their child's needs. Teachers stimulate problem-solving and critical thinking skills, developing unique and individualized lesson plans to address children's abilities, strengths, and needs. Parents can be assured their child's learning goals are being met, thanks to an exclusive data-driven process that links individualized observation with assessment and lesson planning. For more information, visit www.lapetite.com
About La Petite Academy
La Petite Academy is a leader in early childhood education, with nearly 450 schools throughout the United States. Headquartered in Novi, Mich., it is part of the Learning Care Group portfolio of schools offering early education and care to children ages 6 weeks to 12 years. La Petite Academy provides engaging learning experiences through active exploration and discovery. Its proprietary School Readiness Pathway supports the development of the academic and social skills needed for a smooth transition to elementary school.
Dr. Ronald Holmes is the author of 13 books: Jacob's Dream! A Story of Bullying in School and Ways to Stop it. Jacob's Dream! "A Lesson on Numbers and Birds," "Jacob's Dream! A Lesson on Alphabets and Continents," "How to Eradicate Bullying," "Education Questions to be Answered," "Current Issues and Answers in Education," "How to Eradicate Hazing," "Professional Career Paths," "Your Answers to Education Questions," "How to revitalize the National Baptist Convention, USA, Inc." "Completing the Dissertation: Tips, techniques and real-life experiences from Ph.D. graduates." "Jacob's Dream, A Story of Careers for Children" and Jacob's Dream, A Story of Animals in Africa. He is publisher of "The Holmes Education Post," an education focused Internet newspaper.  Holmes is a former teacher, school administrator and district superintendent. He can be reached at [email protected]