Why did UM adopt concept of entrepreneurial thinking?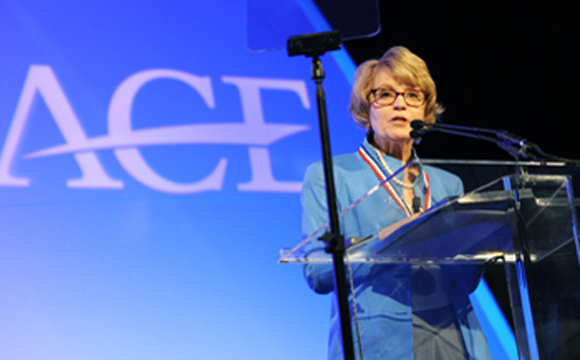 Dr. Mary Sue Coleman, president of the University of Michigan was a keynote speaker at the 96th Annual Meeting of the American Council on Education (ACE).  With a conference theme of "Seizing Opportunity," Coleman's talked about the importance of universities adopting entrepreneurial thinking through the concepts of "Innovate, Disrupt and Repeat." Following is an excerpt of Coleman's dynamic speech:
While appointed president in 2002, the University of Michigan (UM) was facing its worst financial deficit. The state of Michigan, however, was known as the center for innovation and technology in the first half of the 20th century through pioneers such as Henry Ford who revolutionized automobile design and construction. Michigan was the Silicon Valley of the time with other noteworthy inventions such as office furniture, baby food and breakfast cereal. In the second half of the 20th century, the auto industry and its suppliers stopped being innovative. Between the years of 2000 and 2008, Michigan lost one million jobs.  Michigan went from a top 10 state in support of higher education in 1999 to the bottom 10 state by the end of the decade. The employment rate was at 15 percent which led to a new way of thinking in the state.
As a university president, it was evident that we could no longer be internally focused as we had done for many decades. We had to adapt to change and become more entrepreneurial in our thinking and daily mode of operation. We recognized the pressing need to building deeper connection with our peer industries and institutions. We wanted to be a greater catalyze for economic development and technology commercialization. We knew that we would have to take a hard look at ourselves identifying some fundamental institutional barriers to entrepreneurial thinking and creative activities. We had to ask ourselves, "Why do we need more entrepreneurs and entrepreneurial thinking in our educational institution?" The response was that we need to prepare our graduates for a complex and global economy. Our past history taught us about career paths that are not predictable. We learned that most careers are not built with life-time loyalty to a single organization or institution requiring us to be flexible and have the ability to deal with change as a positive force.
Additionally, we need more entrepreneurs and entrepreneurial thinking in our educational institution to take the theoretical knowledge we have learned and apply it practically and innovatively to a wide range of solutions. In using this approach, it is about what both our students and university can gain from an entrepreneurial mindset focused on innovation. In practice, it means becoming more externally focused in activities such as learning to work across boundaries and disciplinary teams. Fostering greater risk-taking so innovation could thrive rather suffocate from bureaucracy. It means testing, retooling, experimenting, and failing occasionally as we iterate towards success. It also means developing a capacity for authentic and continuous change.
Based on my experience at the University of Michigan for the past 10 years, there are three keys to a more innovative and entrepreneurial environment in higher education. The first is to establish a supportive policy and infrastructure. The second is to build a vibrant campus ecosystem. The third is to create a culture of innovation.
Establishing a supportive policy and infrastructure, for example, would allow innovation to thrive in the educational environment. We need to align our hiring, promotion and tenure processes to reflect such actions if we believe that innovation and entrepreneurship thinking are critical. At UM, we work with the faculty and executive committees in all of our colleges and schools to recognize faculty entrepreneurship, tenure and promotion decisions. For faculty members who are interested in technology commercialization, we currently recognize their efforts on starting companies, patent filing and event disclosures.
Additionally, we allow our students to have full autonomy of their intellectual properties and created funding. We provide mentoring and resources for students ideas to blossom. We modified our conflict innovation policies so that UM is able to assess and manage conflict efficiently. We realized that it was difficult for UM's  entrepreneurs to get the institutional support that they needed, as well as for the business community to partner with us. With an entrepreneurial focus over the past decade, we developed a business center to partner with investors for university projects. We organized a model for business interaction called the Business Engagement Center (BEC). Through the BEC, we currently interact with nearly 350 businesses annually. The BEC has become an open door for industries to seek UM's expertise.
Thus, the principles that we teach our students about entrepreneurship are exactly the same principles all higher education institutions needs to navigate in today's turbulent economy. Our entire institution faces the challenges or forces of an enormous disruptive change. Entrepreneurship teaches us to use that change as a positive force. To adapt and lead, it is time for our institutions to infuse entrepreneurship in our research, curriculum, and operation. And it is time for all of our educational constituents to become the innovator we are educating our students to become.
 Dr. Ronald Holmes is the author of five books, "Education Questions to be Answered,"  "Current Issues and Answers in Education,"  "How to Eradicate Hazing," "Professional Career Paths" and "Your Answers to Education Questions." He is publisher of "The Holmes Education Post," an education focused Internet newspaper.  Holmes is a former teacher, school administrator and district superintendent. He can be reached at [email protected].
Photo by Tim Trumble for the American Council on Education.