Smoke Rise Elementary School's Environmental Awareness Day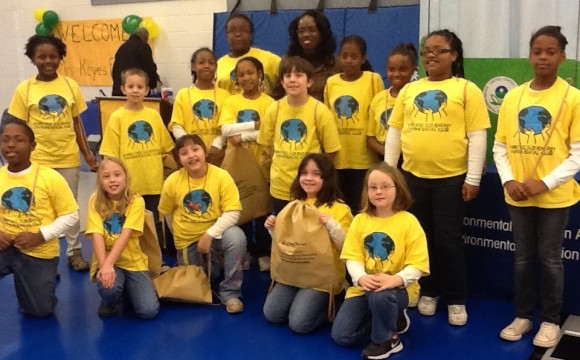 by Joi Holmes
Gwen Keyes Fleming, Environmental Protection Agency (EPA) Region 4 Administrator led an exciting discussion about environmental issues with Smoke Rise Elementary School students as a part of their Environmental Awareness Day.   Regional Administrator Fleming and her staff provided students with an hour of interactive activities that included performances by Mother Earth and an Earth Day puppet show. Smoke Rise's Environmental Club hosted the environmental awareness day, which is just one of the many amazing activities and events provided by the club.
The Environmental Club is an after-school program for students at Smoke Rise Elementary School, a PK-5 charter school in Stone Mountain, Ga.  According to Kathy Kearny, club sponsor, students have opportunities to engage in an array of environmentally themed activities and get to create green initiatives, such as tree planting, trash composting, vegetable garden planting and research on the monarch butterflies.  One of the unique ideas the Environmental Club students initiated was the trash garden. Students collect their regularly discarded trash and put them in their garden. They monitor and record their findings bi-weekly to determine how long it will take for the items to decompose. The students recently visited the garden; however, no changes had occurred since their initial planting.
The Environmental Club and EPA Administrator Fleming hosted a fun-filled day of environmental awareness for the children at Smoke Rise Elementary School. Students were engaged during the entire presentation and were enthusiastic about their chance to respond to Administrator Fleming during the question and answer time.  A number of eager hands were raised quickly for a chance to question Administrator Fleming.  One student was curious to know if Fleming "enjoys recycling" while another student asked if "our trash will pollute the ocean?"
We congratulate Smoke Rise Elementary School's Environmental Club for the phenomenal job of exposing students to current issues affecting our planet and encouraging students to take part in saving our earth through "green" practices.
Joi Holmes is a veteran English Language Arts (ELA) Teacher and Reading Coach and has taught elementary, middle and high school students in both Georgia and Florida.  She is currently a 2nd year Ph.D. student in Curriculum & Instruction.