The Advanced Academy of Georgia: Breaking Boundaries and Setting the Curve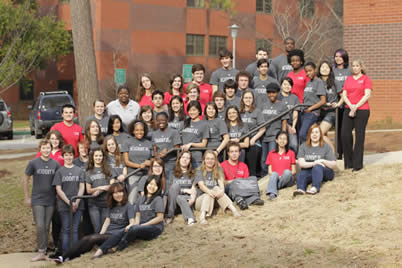 by Iman Carol Fears
Teens from across the nation may apply to the Advanced Academy of Georgia, a full-time residential early entrance to college program for high-ability and highly motivated high school students. Academy students live on the campus of the University of West Georgia in Carrolton, Ga., where they exclusively take regularly scheduled university courses. All Academy courses are taught by University professors, and for each course, students receive concurrent high school and college credit.
Christie Williams, interim Director of the Academy, gives insight to the history of the program: "[The Academy] started in 1995…I know that our current president had been part of a similar program in Texas, and he had a passion for early entrance…our mission is to provide an enriched full-time early entrance to college opportunity for high-school-aged-students interested in accelerating their academic careers."
According to Williams, there are currently 69 students enrolled in the Academy. Students at the Academy have full access to all that the University of West Georgia has to offer, including clubs and organizations, intramural sports, and undergraduate research opportunities.
Students can also choose a major as early as eleventh grade. This allows very bright students to access a level of subject specialization that is nearly impossible to achieve in many low-performing high schools.
Professors at the University of West Georgia often become personal mentors for Academy students as they complete their eleventh and twelfth grades and freshman and sophomore years of college at the same time.
For example, Academy student Sophia Latz recalls one of her professors as being impressed at the quality of work she was able to produce at the  age of seventeen. "My professor told me," said Latz, "'you write as well as my graduate students'." Latz, now eighteen, will graduate from the Academy in May of 2012, after which she hopes to attend the University of Edinburgh in Scotland, United Kingdom.
Upon arrival at her new university, Latz will have nearly half of her college credits completed, allowing her to explore increasingly specialized study in her field of choice. Latz and her peers at the Advanced Academy are on track to graduate college by the age of nineteen or twenty, and to have MBAs and law degrees by twenty-one or twenty-two years old.
The 2011-12 cost of the Advanced Academy is $7,132 per semester including tuition and fees $3,296; Residence Hall $2,070; meal plan $1,266 and a book allowance of approximately $500.  Free Application for Federal Student Aid (FAFSA) and merit-based financial aid are available. The application deadline for the 2012-2013 school year is June 1, 2012.
As she looks toward college and the future, Latz is grateful for all that the Advanced Academy had to offer her, saying, "the Academy has instilled in me skills and values that I will carry for the rest of my life."
About the Author: 17-year-old Iman Carol Fears is a member of Columbia University's Class of 2016, where she intends to study creative writing and economics. Her work has been published in Underground Voices, Unlikely 2.0, and the Newport Review.