What amazes General Colin L. Powell about Community Colleges?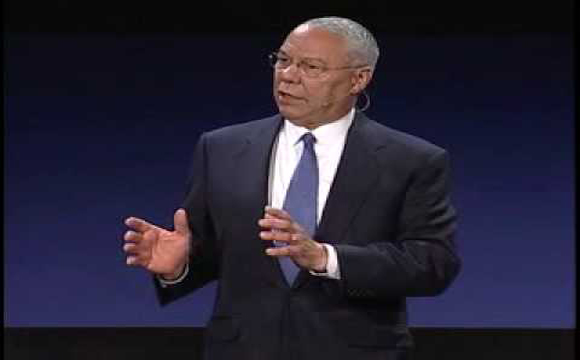 Many students go through 12 years of school and do not know which career path to pursue for their future. While community colleges provide credit and noncredit courses to nearly 12.7 million students annually, the critical questions to be asked are: What amazes General Colin L. Powell about Community Colleges? What influenced Powell to take college seriously? What is Powell's message to kids?
The son of Jamaican immigrants, U.S. General Colin L. Powell was born in Harlem, New York on April 5, 1937. Powell served as President Ronald Reagan's national security advisor, chairman of the Joint Chiefs of Staff for Presidents George H.W. Bush and Bill Clinton and appointed the 65th Secretary of State under President George W. Bush. Powell was the first African American to serve as Joint Chiefs of Staff and Secretary of the State.
As a keynote speaker at the 94th Annual Convention of the American Association of Community Colleges (AACC), Powell praised the leaders of community colleges for preparing many students for higher education, the workforce and life. He noted their trademark of being focused on the needs of the community, knowing the people in the community and knowing the jobs that are required in the community. For leaders of these colleges to continue to be successful, he told them citing real-life examples working under President Reagan, that the elements of a good leader is hiring good people and empowering them to do their jobs.
Powell emphasized that we can't just talk about student access and student success; we have to make sure that students graduate from college with the skills they need to be successful in the world. We have to be concerned about the success of students before they get to community colleges too, so that these colleges are not just teaching them remedial courses. We have to be mindful that the world is changing with regard to demographic backgrounds and ethnicities. There are more families run by single parents and most of these parents are women. There are more minorities projected to be in the world than the majority (Caucasian) in the foreseeable future, so community colleges must continue to adapt and deal with societal changes of the 21st century and beyond.
Powell related the community college experience to his experience at the City of College of New York (CCNY). He said that the CCNY's environment was similar to the community college because it was community-based, affordable, provided open access to students and, most importantly, helped him to find his niche. While an average college student who struggled to maintain a 2.00 GPA, Powell became inspired by the Army ROTC program which gave him self-pride and motivation to pursue the military path. Upon graduation in 1958, he received a commission as an Army Second Lieutenant and then served in the U.S. Army for 35 years rising to the rank of four-star general. In 1971, he earned a MBA from George Washington University.
Powell is the founder of America's Promise Alliance (APA). APA is devoted to help children from all socio-economic backgrounds in the U.S. to succeed. As Powell speaks to students throughout the country, he said that he tell them, "It is not how you start in life, but what you do with your life. If you like my story, don't see me as a role model but see me as an example that you can learn from to help you; be your own role model, set your own standards and learn from people such as teachers, parents, coaches, etc. who are a part of your life; know that there are people who believe in you but you have to believe in yourself."
Just like the college experience of General Colin Powell, we can't afford to lose hope in kids. We have to find creative ways to hook them to learn. Sometimes that hook comes in co-& extra-curricular activities such as ROTC. Having an environment that is student-centered or community-based like community colleges, can allow educators to use that hook for all students to succeed.
 Dr. Ronald Holmes is the author of five books, "Education Questions to be Answered,"  "Current Issues and Answers in Education,"  "How to Eradicate Hazing," "Professional Career Paths" and "Your Answers to Education Questions." He is publisher of "The Holmes Education Post," an education focused Internet newspaper.  Holmes is a former teacher, school administrator and district superintendent. He can be reached at [email protected]