What are the sounds of the singing superintendents?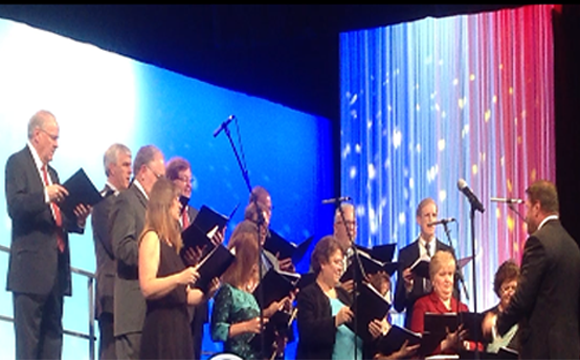 The television program, American Idol, is gearing to select its 2015 American Idol, top singer. While the voices of the Idol contestants come in a variety of musical sounds (rock, soul, country, etc.), the critical questions to be asked is: What are the sounds of the singing superintendents of the American Association of School Administrators (AASA)?
Founded in 1865, AASA is the professional organization for more than 13,000 educational leaders across the U.S. Its members range from chief executive officers, superintendents and senior level school administrators to cabinet members, professors and aspiring school system leaders.
At the closing session of the 2015 National Conference on Education in San Diego, Calif., the AASA members/ superintendents provided a number of selections to the attendees with great enthusiasm, pride, spirit and conviction. In the following video links, you can listen to the sounds of the singing superintendents and, perhaps, hear them again or other superintendents at the 2016 National Conference on Education – AASA in Phoenix, AZ. The conference will be held on February 11 – February 13 at the Phoenix Convention Center.
Dr. Ronald Holmes is the author of eight books, "Education Questions to be Answered," "Current Issues and Answers in Education," "How to Eradicate Hazing," "Professional Career Paths" "Your Answers to Education Questions," "How to revitalize the National Baptist Convention, USA, Inc." "Completing the Dissertation: Tips, techniques and real-life experiences from Ph.D. graduates" and "Jacob's Dream, A Story of Careers for Children." He is publisher of "The Holmes Education Post," an education focused Internet newspaper.  Holmes is a former teacher, school administrator and district superintendent. He can be reached at [email protected]
ImageSingingSuperintendents1  ImageSingingSuperintendents2  ImageSingingSuperintendents4
ImageSingingSuperintendent5  ImageSingingSuperintendents6  ImageSingingSuperintendents7