What career path can lead to becoming an ophthalmologist?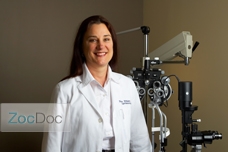 There are more than 29 million U.S. adults affected by vision problems such as cataracts, macular degeneration, glaucoma and diabetic retinopathy. If these eye injuries are not detected and treated early through interventions such as proper eye protection and eye safety practices, they could lead to vision loss, according to Prevent Blindness America. Eye injuries are the leading cause of blindness in U.S. children, especially those who participate in school sports ranging from temporary to permanent vision loss according to the National Eye Institute.
August is "Children's Eye Health and Safety Month." It is a good time for adults and children to focus on having their eyes examined to detect and treat any potential conditions. The medical doctor who specializes in eye and vision care is the ophthalmologist. The critical questions to be asked are: What career path can lead to becoming an ophthalmologist? What educational background and professional training are essential for the profession? What influenced Dr. Frances D. McMullan to become an ophthalmologist? What advice does McMullan give to students desiring to pursue a career in medicine?
Ophthalmology is the branch of medicine that deals with the physiology, anatomy and diseases of the eye. Medical doctors specializing in the field of ophthalmology are called ophthalmologists. Ophthalmologists are both surgical and medical specialists. They are involved in eye research and provide the full spectrum of eye care.
Dr. Frances McMullan is board certified by the American Academy of Ophthalmology, diplomate and fellow of the American Academy of Ophthalmology. With two convenient locations in Atlanta (Georgia Eye Associates and Mount Vernon Eye Care), McMullan has over 30 years of experience meeting patients' surgical and medical vision needs. Her experience includes tens of thousands of refractive procedures such as no-stitch cataract surgery, LASIK, PRK, ALK, corneal transplants, implantation of premium lenses and botox.
McMullan says that her path to the becoming an ophthalmologist began with the development of good eye and hand coordination while doing advanced crewel embroidery around the age of 13. She also had an interest in science and optics. McMullan's father, a dermatologist, put together the two avocations and suggested ophthalmology might be a way to blend the two and thought it was a good subspecialty for women.
To become an ophthalmologist, McMullan received a Bachelor of Arts degree from the University of Virginia and a medical degree from the Medical College of Virginia. Prior to completing medical college, McMullan says that she worked in a volunteer role at a hospital where an aspiring ophthalmologist suggested she do research to get her name on scientific papers before applying for residency. In a very popular profession where ophthalmology residencies are difficult to obtain, McMullan says that her publication led to four residency offers.
McMullan completed a three-year ophthalmology residency at Emory University, Grady Memorial and Atlanta Veterans Administration Hospitals, a one-year cornea-external disease fellowship at Tufts-New England Medical Center and a one-year anterior segment surgery fellowship at the medical practice of Dr. Barrie H. Thrasher Jr., M.D. In addition to her two practices, McMullan has hospital and surgical facility affiliations with Atlanta Outpatient, Piedmont and Northside Hospitals.
McMullan is an active member of numerous national and international ophthalmic, refractive and cataract associations. She is on the board of the Medical Association of Atlanta, the Board of Managers of the University of Virginia Alumni Association and emeritus member of the Board of Managers for the College of Arts and Science at the University of Virginia. She has taught courses on phacoemulsification, corneal topography and transition to phaco, as well as published several professional articles in her field such as "Endohthalmitis following Penetrating Keratoplasty, Joint Hyperextensibility in Keratoconus and Corneal Endothelium under Various Storage Conditions." McMullan gives back by doing mission work in Central America, South America, Africa and Asia.
"Students desiring to pursue a career as an ophthalmologist should make sure their pursuit is based on passion," according to McMullan. The profession will require you to sacrifice insurmountable time, energy and family matters, but all of this is worthwhile if you have that underlying passion for becoming an ophthalmologist," she said.
We sincerely thank Dr. Frances McMullan for sharing invaluable information about her professional training, experience, expertise and passion for the medical profession.
Dr. Ronald Holmes is the author of two books, "Education Questions to be Answered" and "Current Issues and Answers in Education." He is president of "The Holmes Education Post," an education focused Internet newspaper. Holmes is the national superintendent of education for the National Save the Family Now Movement, Inc., a former teacher, school administrator and district superintendent. He can be reached at [email protected]